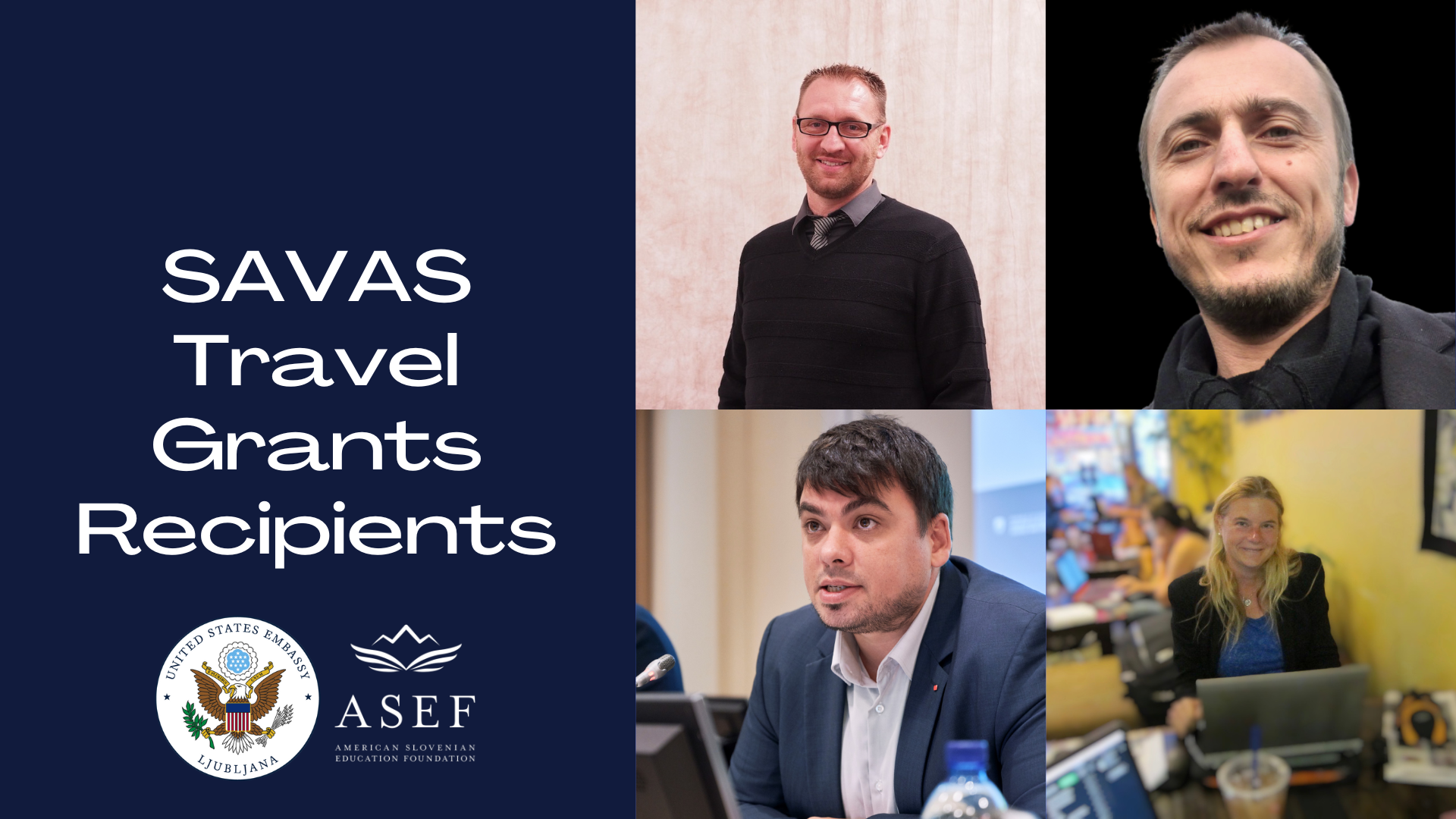 Congratulations to the recipients of SAVAS Travel Grants!
We are delighted to announce the names of four recipients of SAVAS Travel Grants. Slovenian American Virtual Academic Symposium (SAVAS) is organized jointly by the U.S. Embassy in Slovenia and the American Slovenian Education Foundation (ASEF) and is intended to enhance cooperation between Slovenia and the United States and highlight current partnerships in various industries. This spring the U.S. Embassy and ASEF announced the first call for SAVAS Travel Grants which aimed to promote further cooperation in the areas of education, science, and entrepreneurship between the Republic of Slovenia and the United States. After the selection process, we would like to present to you four exceptional academics, researchers, and entrepreneurs who will visit the universities in the USA or Slovenia to strengthen the relationship between the two countries and acquire valuable knowledge from their visit. We wish all four recipients the best of luck during their visits and hope this experience will be of great value to them!
Introducing the SAVAS Travel Grants recipients
Arne Baruca, Ph. D., is an Associate professor of Marketing who joined Texas A&M University-San Antonio in 2015. Dr Baruca's primary research interest is topics related to branding, sports marketing, and marketing education. He is also very interested in issues related to the contexts of the entertainment industry and international marketing. His work is published in several marketing journals and has presented his work at various conferences. Prior to his academic career, Dr Baruca worked internationally for almost 10 years in several industries including telemarketing, banking and automotive.
He will visit the University of Primorska in Slovenia to strengthen the cooperation that has been already established some years ago. In connection with the ongoing work project, Dr. Baruca will concentrate on functional food and purchasing factors that affect it. For the development of functional food items and positioning of these, it is crucial to comprehend the meaning and accept the concept of functional food.
Dr. Dejan Križaj is Vice Dean for Internationalization and Global Initiatives at the University of Primorska, Faculty of Tourism Studies – Turistica, and also the co-founder of the R&D study program sTOUdio. Its main goal is to get students involved in development projects with an emphasis on analytics, consulting, innovation, and practical work in the economy so they can grow their skills with the aid of experts, academics, and teaching and research staff. In the three years of its operation, the program has organized a number of extracurricular activities, with more than 50 national and international students of UP FTŠ Turistica joining the program, eager to gain new practical skills, experience, and network.
Dr. Križaj will visit San Diego State University to convey the best practices from sTOUdio Turistica program to the universities in the USA. Additionally, he would like to transfer ideas, contacts, and knowledge from the partners in the USA to the University of Primorska.
Being a freelance consultant and project manager Dr. Štromajer has been deeply interested in researching cooperatives for the past 10 years. With his vast experience in the governmental and private sectors, he wishes to research more about cooperatives, which can be found in almost every sector of the economy.
Pursuing this goal, Dr. Štromajer will visit The University of Wisconsin Center for Cooperatives, which is the only university in the US that provides research and education about cooperatives to that extent. During his visit, Dr. Štromajer will be gathering data on the cooperative industry in the USA over the past few years and comparing it to Slovenia's cooperative industry, so later he can use this knowledge and data to encourage the growth of cooperatives in Slovenia as an alternative form of conducting business.
Dr. Maja Šubelj is an Assistant Professor at the Faculty of Medicine, University of Ljubljana, and Senior Public Health Specialist and Medical Epidemiologist at the National Institute of Public Health. Among her key research interests are Infectious Diseases, Epidemiology, Outbreaks, Surveillance and Modelling, and Response to Public Health Threats.
Dr. Šubelj will visit the University of Arizona, Mel and Enid Zuckerman College of Public Health. The involvement in pedagogic activities such as teaching, research, and community health epidemiology during the visit will give her new skills and capacities that enhance her research in Slovenian and Arizonan communities. During the visit Dr. Šubelj will be able to concentrate on figuring out tactics to increase health equity in relation to several domains of infectious diseases epidemiology, such as vaccination, vector-borne illnesses, emerging diseases, and antimicrobial drugs surveillance.