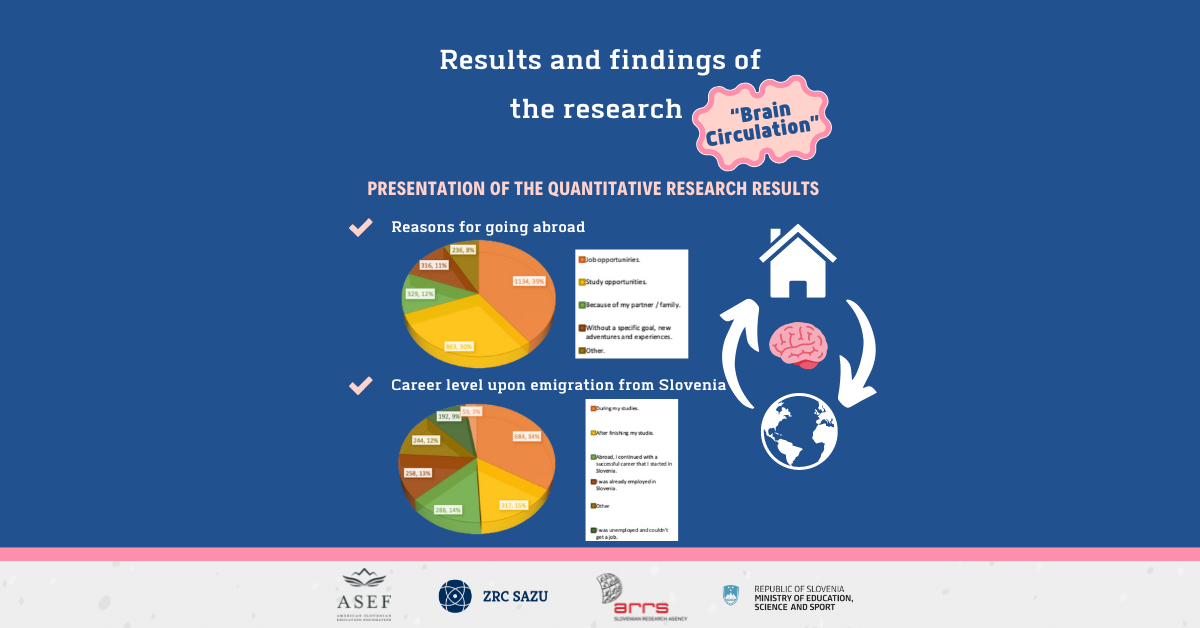 Presentation of the Quantitative Research Results
Promotion of the results and findings of the research TRP 2019 "Brain circulation"
In this post, we would like to introduce you to some of the findings that we obtained in the quantitative part of our TRP 2019 "Brain Circulation" research. In front of you is a brief overview of some of the results that we gained from the prepared questionnaire, which was taken by 2036 Slovenes with an experience of living abroad.
Reasons for going abroad
The majority of respondents went abroad for their employment and studies. Some of them left because of their partner or families, and others went abroad in search of new experiences, without a specific goal. In general, the respondents went abroad in search of better opportunities and conditions for work and life.
The main reason for leaving Slovenia
The reasons for leaving Slovenia are connected to the reasons for going abroad, as individuals go abroad in search of what they miss at home. The respondents most often stated that they left Slovenia for studies, research activities or practice. Almost as many of them cite leaving for better financial and life opportunities abroad. This is followed by service or career opportunity and new challenges, experiences and knowledge.
The speed of the decision-making process to emigrate from Slovenia
The results of the analysis show that the decision to go abroad is mostly made quickly. The reasons for leaving Slovenia are to a greater extent: poor social security, low pensions, complicated and lengthy bureaucratic procedures, etc.
Career level upon emigration from Slovenia
The survey questionnaire revealed a trend that Slovenians mostly emigrate at a young age during or after their studies. Fewer respondents went abroad to continue a successful career they started in Slovenia. Some went abroad when they were unemployed, while others went abroad after completing their PhD.
We have presented to you only a few results of the questionnaire about the emigration of Slovenian citizens abroad. Because we want to create a complete picture, we will share with you even more crucial topics that we analyzed as part of our research in the coming weeks. These will give us a better insight into the problem of brain drain.
Mentioned findings were obtained within the framework of the TRP project "Brain Circulation," which was carried out between November 1, 2019, and October 10, 2021. The project is partly financed by the Slovenian Research Agency (ARRS) and the Slovenian Ministry of Education, Science and Sport (MIZŠ). Participating research organizations were the ASEF Institute for Education and Research (ASEF) and the Research Center of the Slovenian Academy of Sciences and Arts, Slovenian Migration Institute (ZRC SAZU SMI), with Dr. Dejan Valentinčič as the project leader.