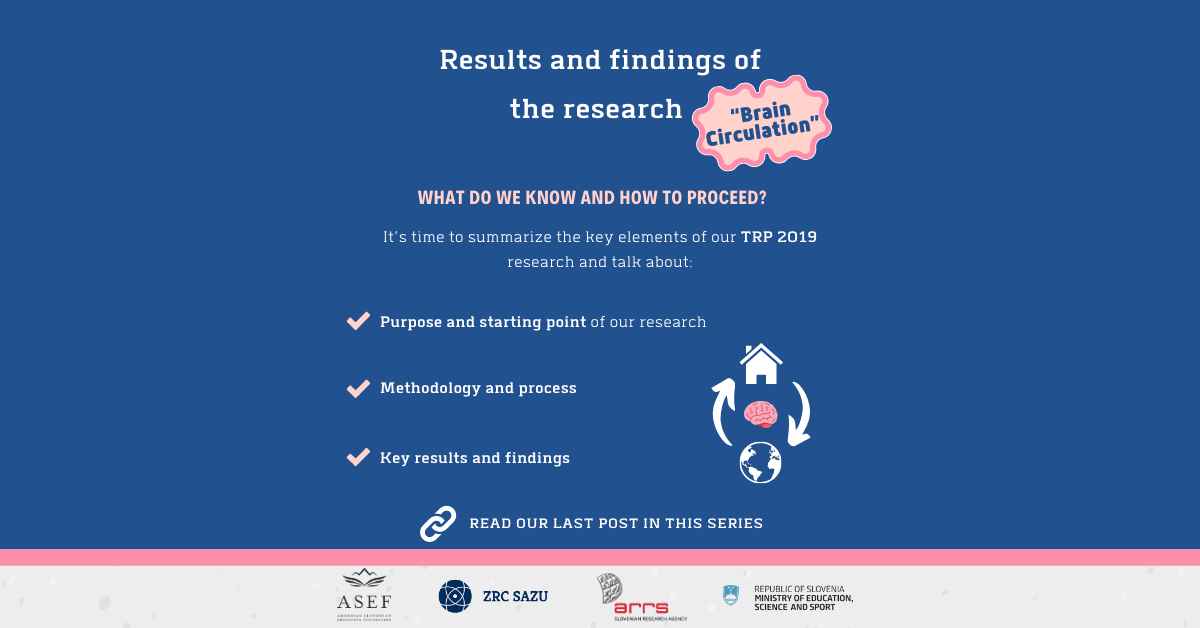 Mitigating the effects of brain drain and strengthening the brain circulation mechanism: What do we know and how to proceed?
Course and key findings of the TRP 2019 "Brain Circulation" research
The year is slowly coming to an end, and in the last breaths of 2022, we are also concluding a series of posts where we have shared with you in the past months the research process and results of the TRP 2019 research on the topic of brain drain and circulation. At a time when we are carrying out evaluations in all areas, we will also look back and try to summarize those key presented findings and main given information about the progress of the implementation of this important project, and last but not least, it is right to also consider what we have achieved with it and how we can strive to put it into practice.
Purpose and starting point
With the TRP 2019 research project, we tried to analyze Slovenian migration processes; this means that we tried to understand the various factors that contribute to emigration from Slovenia and going abroad, which is often characterized by the phrase – brain drain. The current situation somehow forces us not to be completely indifferent to this topic. Between 8 and 10 thousand people emigrate from Slovenia every year, which means that Slovenia loses an entire generation every 2 to 3 years. Since the economically strongest countries will not resist the influx of highly qualified experts in the future, in fact the only option for the countries of origin is an active policy of connecting and involving professionally working scientists and experts abroad in solving domestic development issues – a policy we call brain circulation.
Methodology and process
We tackled the research project systematically and divided it into 4 parts. In the first part, we comparatively analyzed the practices and measures of countries to reduce emigration, promote return and attract foreign highly qualified labor force. In the second part, we conducted a quantitative research, which covered a sample of 2,036 Slovenians with the experience of living abroad with the help of a questionnaire. The third part covered qualitative research in the form of 20 semi-structured interviews with Slovenians who emigrated from Slovenia (N = 13) and also with those who have already returned (N = 7). In the fourth (last) part, based on all the collected findings and conclusions, we prepared a set of recommendations for achieving the goal of reducing emigration and promoting return and brain circulation, which you can find by clicking here.
Key results and findings
Let us once again mention key findings of our research in one place:
Countries promote "brain circulation" in various ways: by establishing information points, investing and attracting entrepreneurs, experts, digital nomads, enabling tax deductions and special social rights for returnees, etc.
Slovenians mostly emigrate when they are young, while studying or immediately after finishing their studies, and they leave in search of better conditions for work and life abroad, for better career opportunities and study opportunities, which do not exist in Slovenia.
In Slovenia, they point to poor conditions for employment, development and promotion, as well as a poor working environment. In the scientific research sphere there are poor conditions for research activity and funding.
Slovenians are mostly ready to cooperate with Slovenia from abroad in their professional field, in the scientific and educational fields, as consultants and by sharing knowledge from abroad.
Those who want to return encounter problems with system regulation, social problems, problems with employment and problems of a bureaucratic nature.
The results of the comparative analysis, quantitative and qualitative research are collected in a comprehensive final research report of the project, which can be found by clicking here.
Let's end by saying that this project is not something we can just wrap up. It is a constant process of finding new ways and solutions to target this issue and finding new connections and causes. Because of its actuality, we also recently had two public presentations of the obtained results, namely at the Ministry of Education, Science and Sport and in London at the Tea with a Reason event: "How to attract talented Slovenians from abroad." In the future too, we will be the messengers of our project, which we will proudly present to the public, so you are very welcome to join and follow us on this "mission".
Mentioned findings were obtained within the framework of the TRP project "Brain Circulation," which was carried out between November 1, 2019, and October 10, 2021. The project is partly financed by the Slovenian Research Agency (ARRS) and the Slovenian Ministry of Education, Science and Sport (MIZŠ). Participating research organizations were the ASEF Institute for Education and Research (ASEF) and the Research Center of the Slovenian Academy of Sciences and Arts, Slovenian Migration Institute (ZRC SAZU SMI), with Dr. Dejan Valentinčič as the project leader.