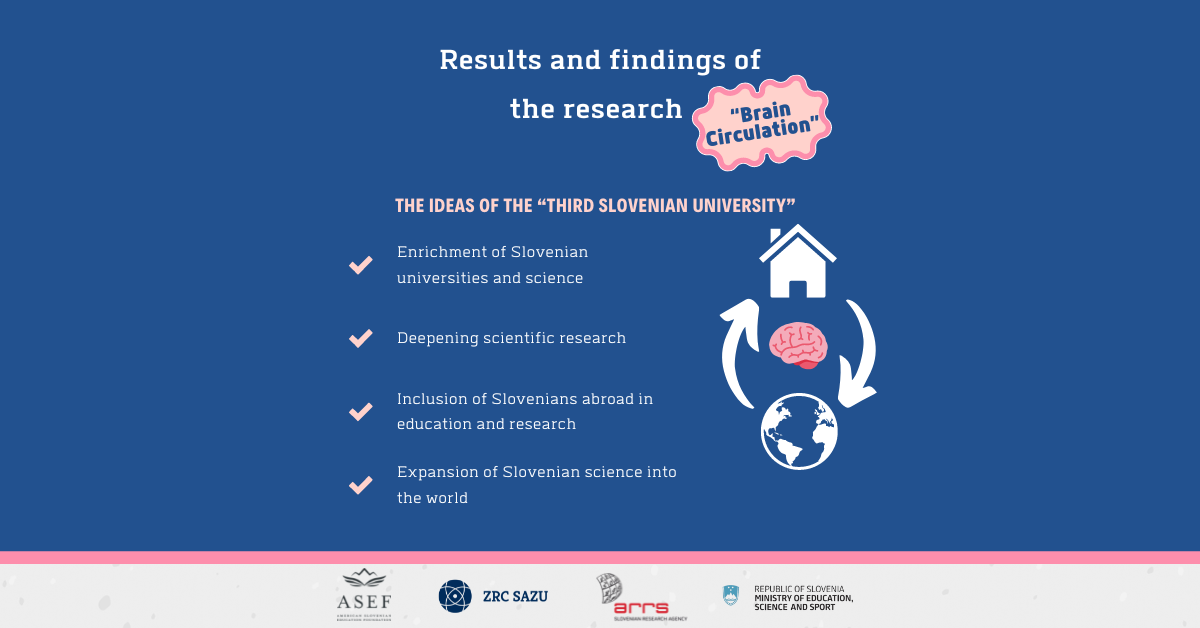 The Ideas of the "Third Slovenian University"
Promotion of the results and findings of the research TRP 2019 "Brain circulation"
The idea of ​​a third Slovenian university appeared at the end of the 1980s, or at the time of Slovenia's independence, and was never successfully implemented. It is special mainly because the program opens up a realistic perspective that Slovenia has for dealing with the consequences of brain drain.
The first group of ideas about the third university concerns several sections:
A) Enrichment of Slovenian universities and science with the knowledge of experts of Slovenian descent who work abroad through their occasional involvement in the pedagogical process at Slovenian universities.
B) Deepening scientific research within the framework of the common Slovenian cultural space and cooperation between scientists from Slovenia, Slovenian diaspora and around the world.
C) Inclusion of Slovenians outside Slovenia's borders in education and research in Slovenia by learning the Slovenian language, history, culture, and contemporary social phenomena.
D) The expansion of Slovenian science into the world with the help of scientists of Slovenian descent abroad and the opening of opportunities for providing excellence and education of our experts at the top-ranked world universities.
The second group of ideas is focused on the point of view that for a long-term strategy we need a central institution with a determined headquarter, while we should also invite experts living abroad to become members of Slovenian professional societies. In particular, we should be engaged in the hosting of experts of Slovenian origin and thereby achieve the expansion of the Slovenian intellectual world. The "Third University" should also be independent of political institutions.
Nevertheless, we must first begin to acknowledge that Slovenian experts around the world are now "at home" in their workplaces and are not waiting for an "invitation" to return, which they are ready to accept right away. They are invaluable for Slovenia, as their main ability is that they can lecture in Slovenian and that they are used to the Slovenian mindset. All programs that strive to connect Slovenian experts at home and around the world must be created with this in mind. Next time, we will reveal more about solving this problem.
Mentioned findings were obtained within the framework of the TRP project "Brain Circulation," which was carried out between November 1, 2019, and October 10, 2021. The project is partly financed by the Slovenian Research Agency (ARRS) and the Slovenian Ministry of Education, Science and Sport (MIZŠ). Participating research organizations were the ASEF Institute for Education and Research (ASEF) and the Research Center of the Slovenian Academy of Sciences and Arts, Slovenian Migration Institute (ZRC SAZU SMI), with Dr. Dejan Valentinčič as the project leader.