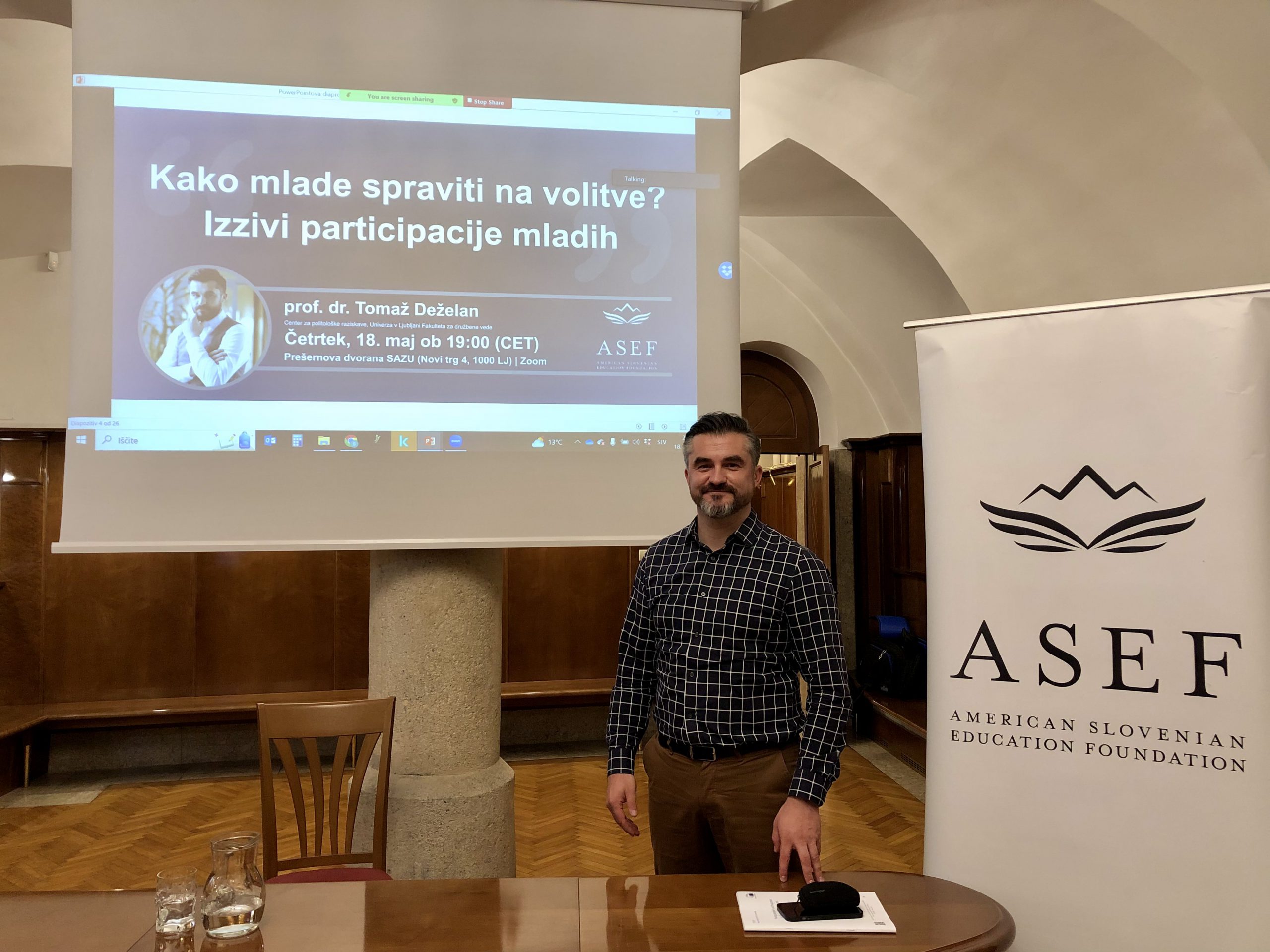 How to Get Young People to Vote? The Challenges of Youth Participation
September 22, 2023 | 9:40 am |
On Thursday, 18 May, as part of the ASEF Speaker Series, where ASEF professors present their research areas and findings. This time, we had the opportunity to be joined by dr. Tomaž Deželan, a professor at the Faculty of Social Sciences and researcher at the Center for Political Science Research. He has extensive experience in working on international research projects and networks and has (co-)authored several peer-reviewed articles in international journals, scientific proceedings and monographs. His research interests include classical and contemporary concepts of citizenship, electoral studies and political participation. He is active as a consultant on youth political participation, an expert on the accreditation of higher education programmes, and as a peer reviewer for the European Commission and the Erasmus+ National Agency.
At the beginning of the lecture, Dr. Deželan took us through the research results on youth political participation, which, in his opinion, is wrongly assumed to be the problem, instead of identifying youth political power as the solution and taking action in this direction. Thinking about the youth should include the context of the changes and events that have shaped their political socialization and the emergence of 'the networked citizen', who gets most of the information and news from social media. The lecture gave us an overview of why political participation is important, what the image of a good citizen is, how young people participate, and how to prepare them to do so. According to Deželan: "It is not a question of whether young people participate politically, but where they participate."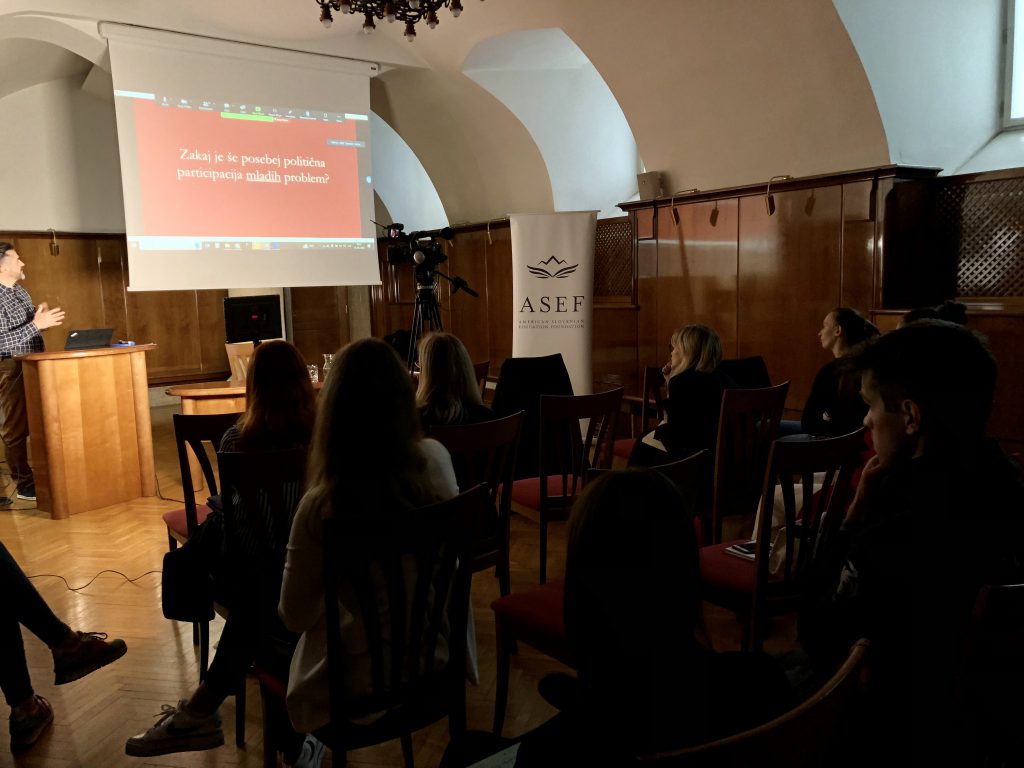 One of the most important forms of political participation is voter turnout, which has been declining globally since the 1950s, even in very consolidated democracies. Studies focusing specifically on the European Union reveal a decline in voter turnout, particularly among the youngest groups of voters, where abstention rates in European elections are over 70%. The decline in youth participation is visible in basically everything related to traditional, institutional politics and conventional practices, such as willingness to stand as a candidate in elections and party participation. The lack of political representation of young people is particularly problematic, meaning a lack of information about this important social group.
As Dr. Deželan said: "It is a myth that there are no young people in politics. Young people are where and when they decide they should be, not when others tell them to be." With the following research, he shows us how today's youth act as citizens. Although they rarely vote, their norms as citizens reflect a desire to deliberate, think differently about social problems, form their own opinions and exercise self-reflection. Modern young people are project- or issue-oriented and participate in non-hierarchical networks through actions and the management of social contacts via the Internet, such as the 2021 Slovenian Waters Act referendum. In a way, young people live politics, as they are politically active in their daily lives and thus shape their identity (for example, through petitions, rejection of consumerism, online activism, etc.). "Young people no longer need politicians to go into politics." Just as Greta Thunberg herself addressed an important global problem without needing a political party.
Finally, Dr. Deželan gave us an answer to the provocative question: "How do we get young people to vote?" He sees the solution to the problem in a model of resources, interest and recruitment, as it addresses the disinterest, the feeling of being uninformed, distrustful and disempowered of young people.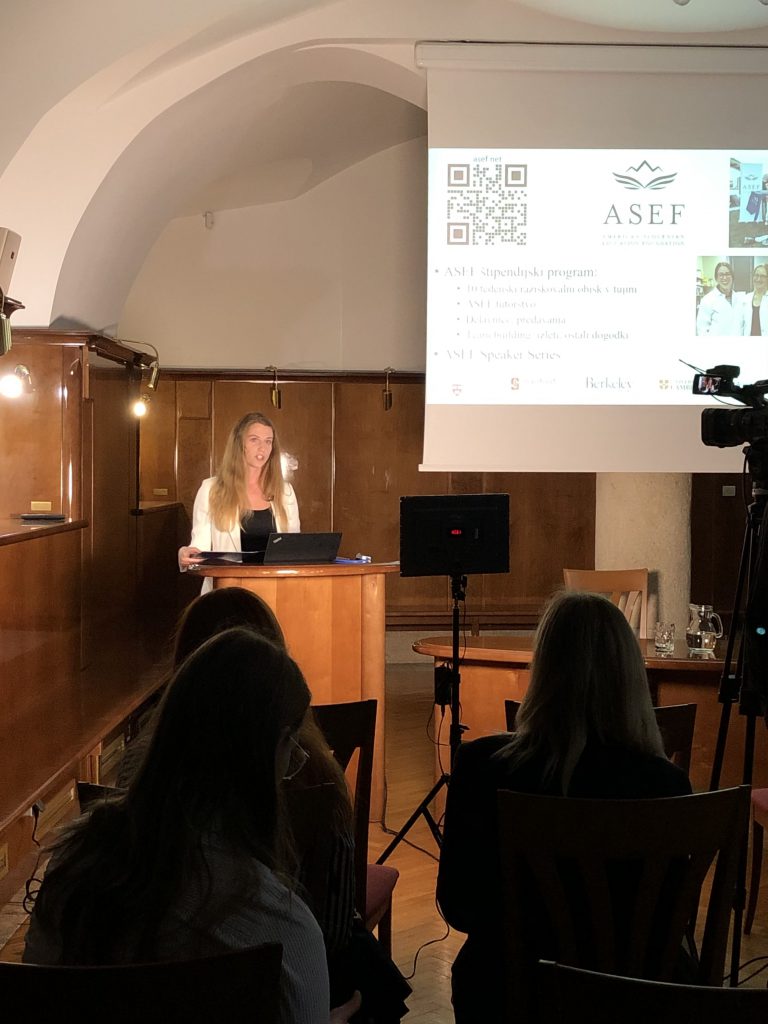 The event was held in a hybrid format, both in the Prešeren Hall of SAZU and via Zoom, and was moderated by 2023 Junior Fellow Lara Snoj.
The event was organized with the support of the Government Office for Slovenians Abroad and the Office of the Republic of Slovenia for Youth.