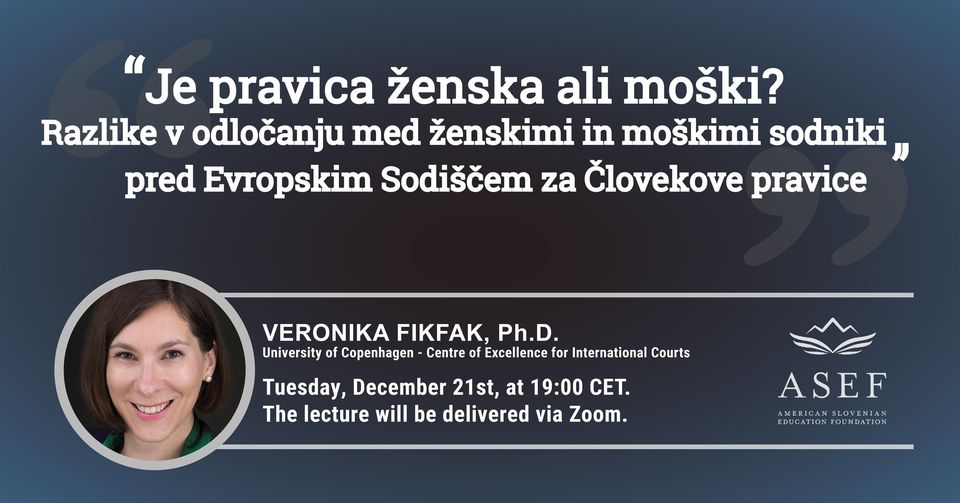 Dr. Veronika Fikfak: Is Justice a Woman or Man?
December 21, 2021 | 7:00 pm | Online
Is justice a woman or a man? Differences in decision-making between female and male judges before the European Court of Human Rights
The American-Slovenian Educational Foundation (ASEF) is organizing a new lecture as part of the ASEF Speaker Series. This time we will be joined by dr. Veronika Fikfak with a lecture: "Is justice a woman or a man?"
Please register for the lecture by 18:00 CET by 21 December. All entrants will receive a Zoom link to their email address before the event.Registrations are done through the online platform Eventbrite: here.
ABSTRACT
Much has been written and researched recently about gender as an important factor in different thinking and, consequently, decision-making. Even in decisions that are seemingly clearly and pre-defined by legal acts, the gender of the decision-maker is often a key factor. When e.g. we turn to the European Court of Human Rights, we often do not think about who will decide our appeal. However, it is clear to those of us who study the European Court of Justice and its decisions that the interpretation of the law, the decision and the amount of damages depend on who sits in the court panel. One of the important elements is also sexual balance. Therefore, for several years now, Member States have been required to send to Strasbourg a list of candidates for judges, including at least one woman. The presentation will focus on the results of the analysis of the Court's 12000 cases and show the impact of the panels on the decision and compensation. The lecture will also show the impact that current jurisprudence may have on the proposal for the Court to start using artificial intelligence in its decision-making.
BIOGRAPHY
Veronika Fikfak is an Associate Professor of International Law at the iCourts Center of Excellence at the University of Copenhagen, where she leads the ERC Project Promoting Human Rights. She has worked at the University of Cambridge, the European Court of Human Rights, UNESCO, the International Court of Justice in The Hague and the British Ministry of Justice. She holds a PhD and a Master's degree from Oxford University.
ASEF
ASEF brings together scientists and academics around the world. More information can be found at: https://www.asef.net.