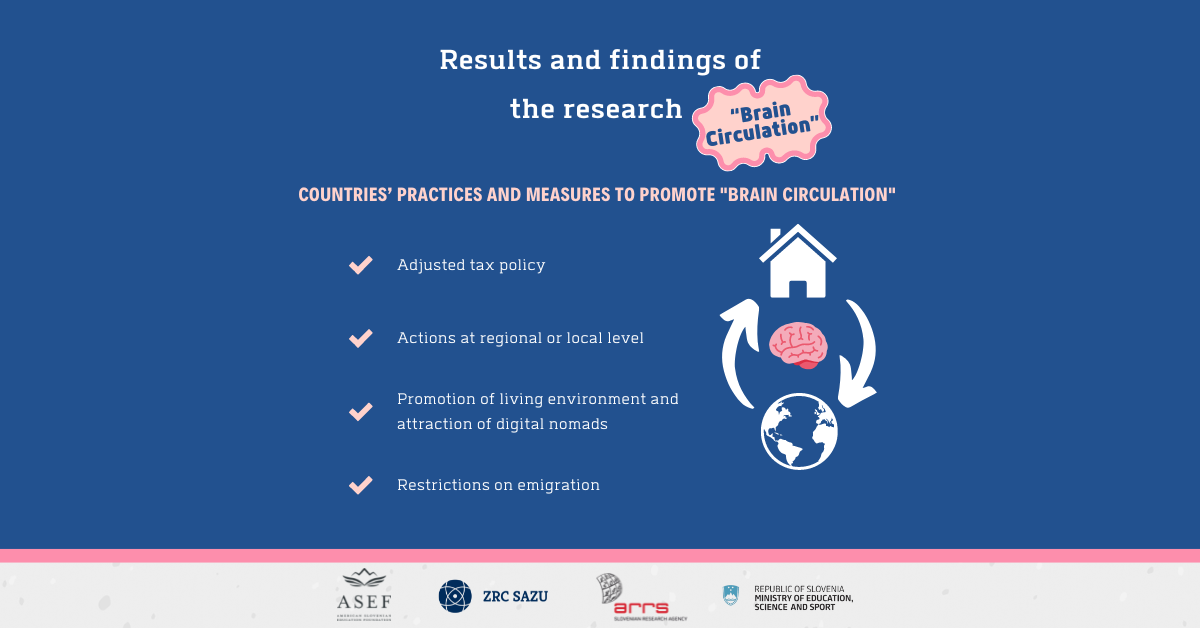 Countries' practices and measures to promote "Brain Circulation"
Promotion of the results and findings of the research TRP 2019 "Brain circulation"
As promised in the last post, we present to you today some more practices and measures adopted by many countries in the field of emigration and immigration of compatriots. Therefore, measures that mitigate the consequences of brain drain and encourage the return of compatriots and diaspora cooperation with the homeland, so-called brain circulation.
Tax policy
Due to the above-mentioned desire to encourage the return of highly educated personnel to their homeland, several countries are trying to provoke this through tax incentives and reliefs. With this, the country attracts not only expatriate compatriots, but also foreigners who find it a more favorable environment for their activities and development.
Actions at regional or local level
Some countries take measures not only at the national level, but also at lower levels. This is introduced by certain regions or local communities that are particularly interested in or suitable for repatriation.
Promotion of living environment and attraction of digital nomads
Due to the intense pace of life, a pleasant environment that improves the quality of life is increasingly important. The number of people who work remotely from home is also increasing, so we can conclude that an orderly living environment will outweigh the country's slightly worse economic indicators in the future.
Restrictions on emigration
Some countries are also taking measures to try to dissuade young citizens from emigrating in various ways. An example of such a measure is reimbursement of schooling costs to the state in a certain period after emigration.
In the last two posts, we have shared with you some of the ways in which countries deal with the issue of the emigration of ambitious individuals, which rightly worries us, as this means that countries are losing those people who could contribute to their development and well-being. In recent years, due to incentives and efforts, the trend of emigration has decreased somewhat, but we cannot yet speak of conclusions. Such a complex problem requires a lot of attention and strategic thinking from us in the future as well. Soon, of course, you can expect even more detailed information on limiting brain drain obtained as part of the TRP project "Brain Circulation".
Mentioned findings were obtained within the framework of the TRP project "Brain Circulation," which was carried out between November 1, 2019, and October 10, 2021. The project is partly financed by the Slovenian Research Agency (ARRS) and the Slovenian Ministry of Education, Science and Sport (MIZŠ). Participating research organizations were the ASEF Institute for Education and Research (ASEF) and the Research Center of the Slovenian Academy of Sciences and Arts, Slovenian Migration Institute (ZRC SAZU SMI), with Dr. Dejan Valentinčič as the project leader.