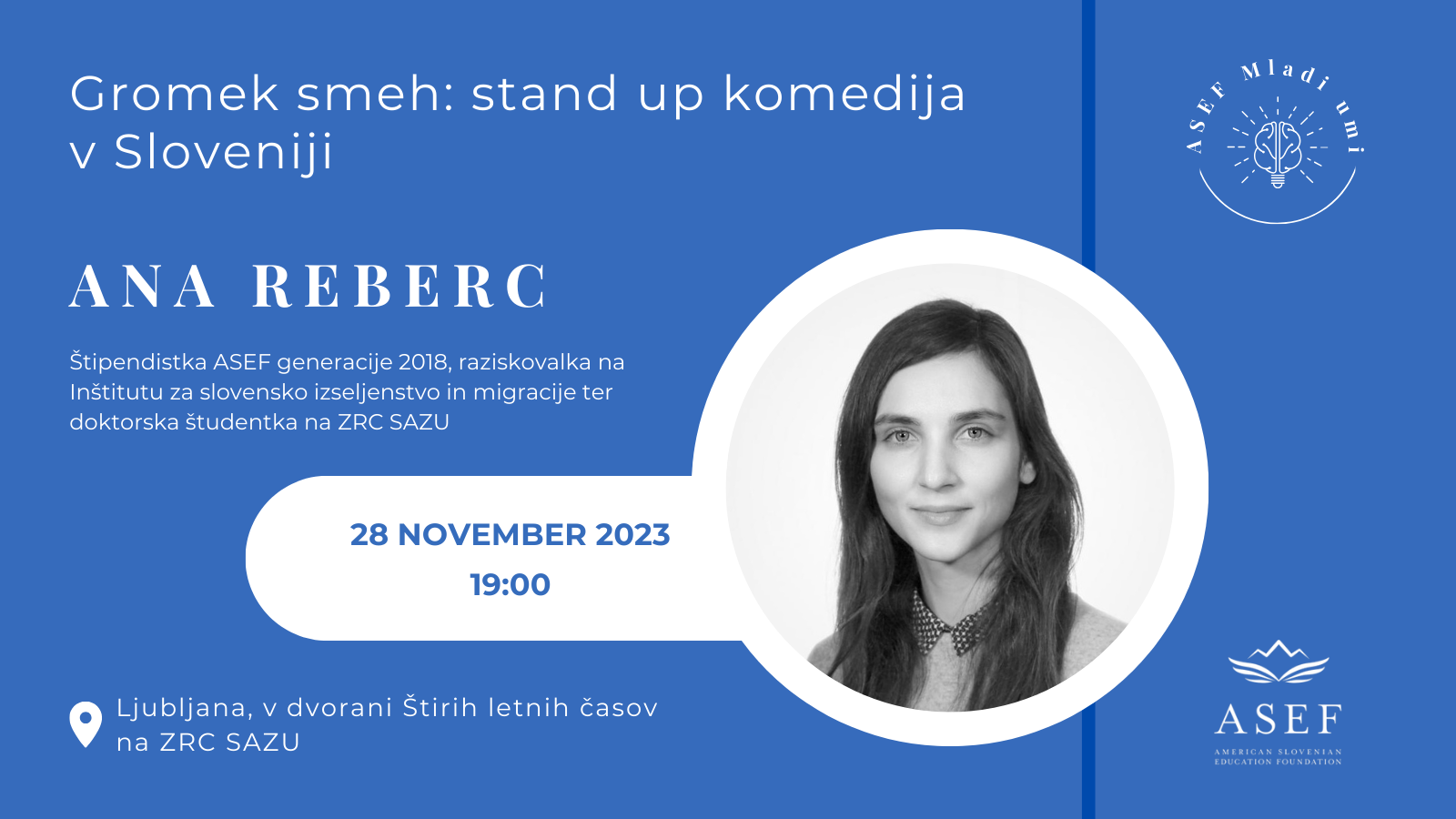 Ana Reberc – Thunderous Laughter: Stand-up Comedy in Slovenia
November 28, 2023 | 7:00 pm | ZRC SAZU (Novi trg 4, 1000 Ljubljana)
The American Slovenian Educational Foundation is organizing a popular science lecture on Tuesday, November 28, at 7 p.m., which will be held by Ana Reberc, ASEF Junior Fellow 2018 and a and PhD student at the ZRC SAZU Graduate School. The lecture is entitled "Thunderous laughter: stand-up comedy in Slovenia" and will be held at Research Centre of the Slovenian Academy of Sciences and Arts (Novi trg 2, 1000 Ljubljana).
REGISTRATION
To attend the lecture, you must register by November 28, no later than 6 p.m.
ABOUT THE LECTURE
Joking and mass entertainment took on a new expression in Slovenia two decades ago when a new genre of comedy began to emerge. Today, stand-up is a hugely popular form of leisure throughout Slovenia, with the number of performers and audiences growing each year. What do we crack jokes about on stage in Slovenia and what makes the audience laugh out loud? This lecture will present the phenomenon of stand-up comedy and its local context. We will be interested in the time and place in Slovenia within which the form of comedy develops and how to understand the cultural economy through broader processes. Jokes aside, how something can become funny in the first place, and how both the comedian and the audience are involved in this process, will be demonstrated through jokes.
ABOUT THE LECTURER
Ana Reberc is a researcher at the Institute for Slovenian Emigration and Migration of the Research Centre of the Slovenian Academy of Sciences and Arts, a member of the interdisciplinary research programme group Heritage on the margins, and a PhD student at the Graduate School of ZRC SAZU, where she studies the phenomenon of stand-up comedy in Slovenia. Ana undertook a research visit by Dr. Peter Verovšek at the University of Sheffield, UK, as part of the ASEF Junior Fellowship programme.
ASEF YOUNG MINDS
ASEF Young Minds is a series of popular science lectures, which encourages young people to present their research work and experience gained within the framework of the ASEF fellowship program in a way that is accessible and understandable to the general public. In the project, ASEF connects with local organizations that operate in the places where the lecturers come from. The aim of cooperation is to connect and integrate young learners into the local Slovenian environment.
ASEF connects and unites Slovenian scientists and academics all over the world.
The project is supported by the Office of the Republic of Slovenia for Youth and the Government Office for Slovenians Abroad.
Photo: ZRC SAZU Slovenian Migration Institute