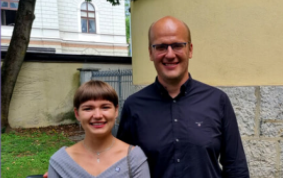 What Are the Tangible Outcomes of the Fellowship?
ASEF Junior Fellows get valuable experience while learning under the guidance of ASEF Mentors. What are the tangible outcomes of the Fellowship?
Milena Javersek is an ASEF Junior Fellow from Germany. She was awarded the 2021 ASEF Junior Fellowship to visit Slovenia and work on a research project under the mentorship of ASEF Mentor Dr. Jernej Letnar Cernic, Professor of Human Rights and Constitutional Law at the European Faculty of Law of the New University.
As a result of her Fellowship, she has recently finished a paper on the connection between integration and human rights.
The fruits of the collaboration with her mentor are collected in the infographic below.
Feel free to read the whole paper via link.