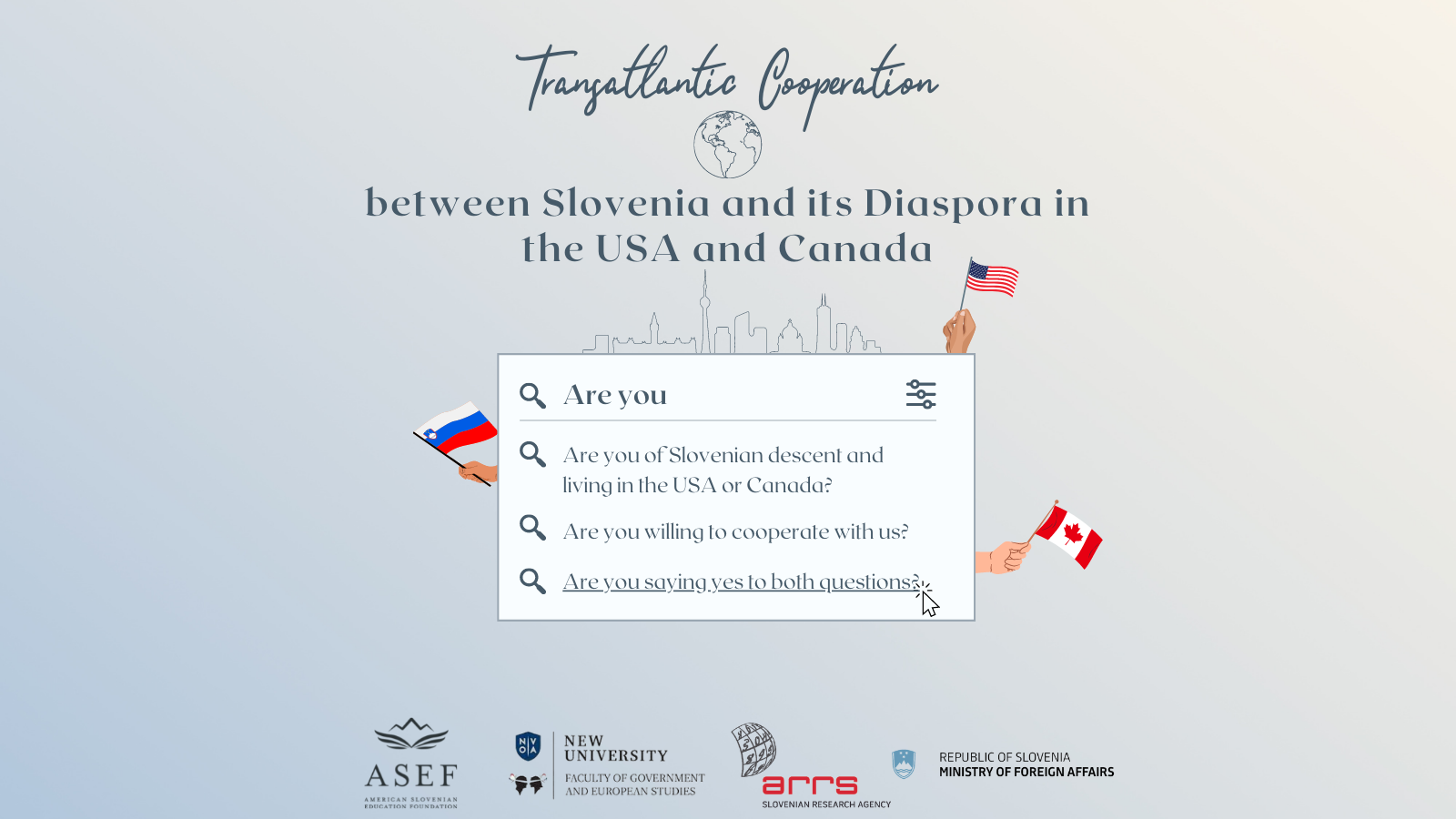 Transatlantic Cooperation between Slovenia and its Diaspora in the USA and Canada
Do you have Slovenian heritage and you are living in the United States of America or Canada? Are you willing to cooperate with us in future research and projects focused on strengthening the bonds between homeland and its diaspora?
If the answer to both of these questions is yes, then you are the one we are looking for!
In that case, we would kindly like to invite you to leave us your contact information and share with us some details about yourself in the following Google Form. With that you are helping us build a stronger web of connections, which enables us to proceed with our vision, which is to connect Slovenians at home and around the world!
Note that your contact will be stored and available only by the ASEF Institute, unless you agree that we make it publicly available on our website with the aim of creating a public list of individuals living in the USA and Canada.
The Form is available on the link below.
Thank you for taking the time to fill out this Google Form and providing us with your information. Your contribution is of key importance to us.
This form is part of the TRP project "Transatlantic Cooperation and the Diaspora as a Soft Power – The Role and Importance of Intellectuals in the United States and Canada," which will be carried out between October 1, 2021, and September 30, 2023. Participating research organizations are the ASEF Institute for Education and Research (ASEF) and New University, Faculty of Government and European Studies (NU, FDŠ), with Dr. Marinka Žitnik (Assistant Professor of Biomedical Informatics at Harvard University) as the project leader. The project is partly financed by the Slovenian Research Agency (ARRS) and the Slovenian Ministry of Foreign Affairs (MZZ).