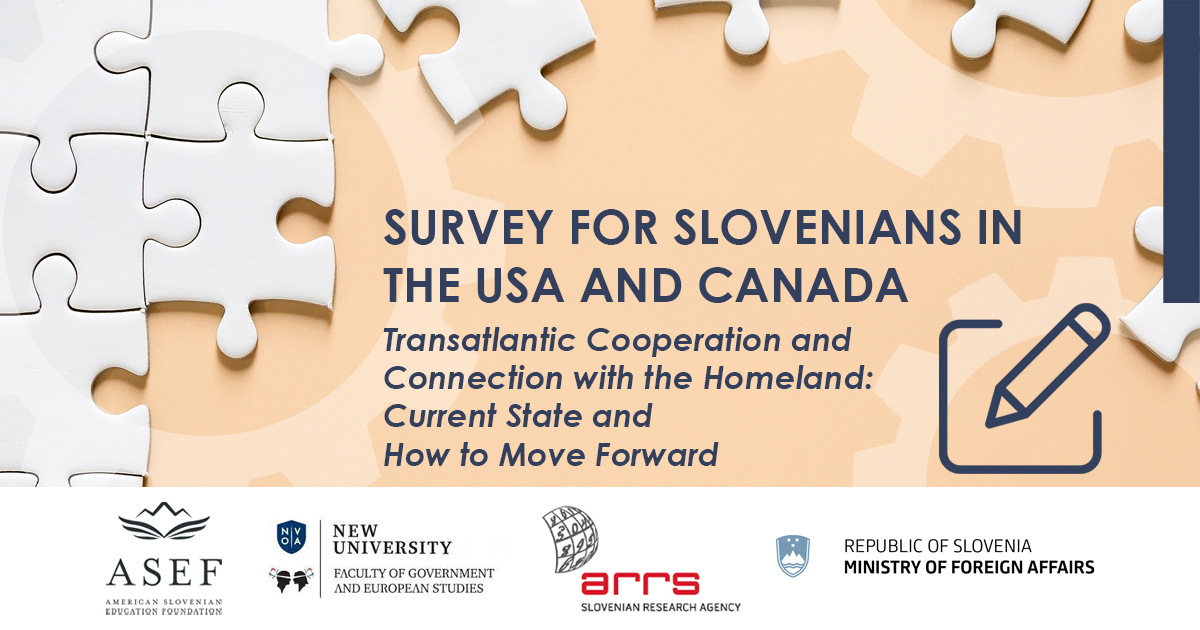 Transatlantic Cooperation and Connection with the Homeland: Current State and How to Move Forward
Are you a Slovenian living in the United States of America or Canada?
Then we kindly invite you to fill out the survey that is part of the project that aims to assess and evaluate current success and possible future improvements in transatlantic cooperation between Slovenia and its diaspora.
In the survey, you can freely express your opinion and wishes for collaborating with Slovenia and the promotion of your homeland to your current country of living. With this, you will provide us with invaluable insight into the existing good and poor practices alongside suggestions that will inspire policy recommendations for the country of Slovenia.
The survey is available online in Slovenian and English until July 1, 2022.
Thank you for taking the time to fill out this survey! Your insights are of key importance to us.
This questionnaire is part of the TRP project "Transatlantic Cooperation and the Diaspora as a Soft Power – The Role and Importance of Intellectuals in the United States and Canada," which will be carried out between October 1, 2021, and September 30, 2023. Participating research organizations are the ASEF Institute for Education and Research (ASEF) and New University, Faculty of Government and European Studies (NU, FDŠ), with Dr. Marinka Žitnik (Assistant Professor of Biomedical Informatics at Harvard University) as the project leader. The project is partly financed by the Slovenian Research Agency (ARRS) and the Slovenian Ministry of Foreign Affairs (MZZ).