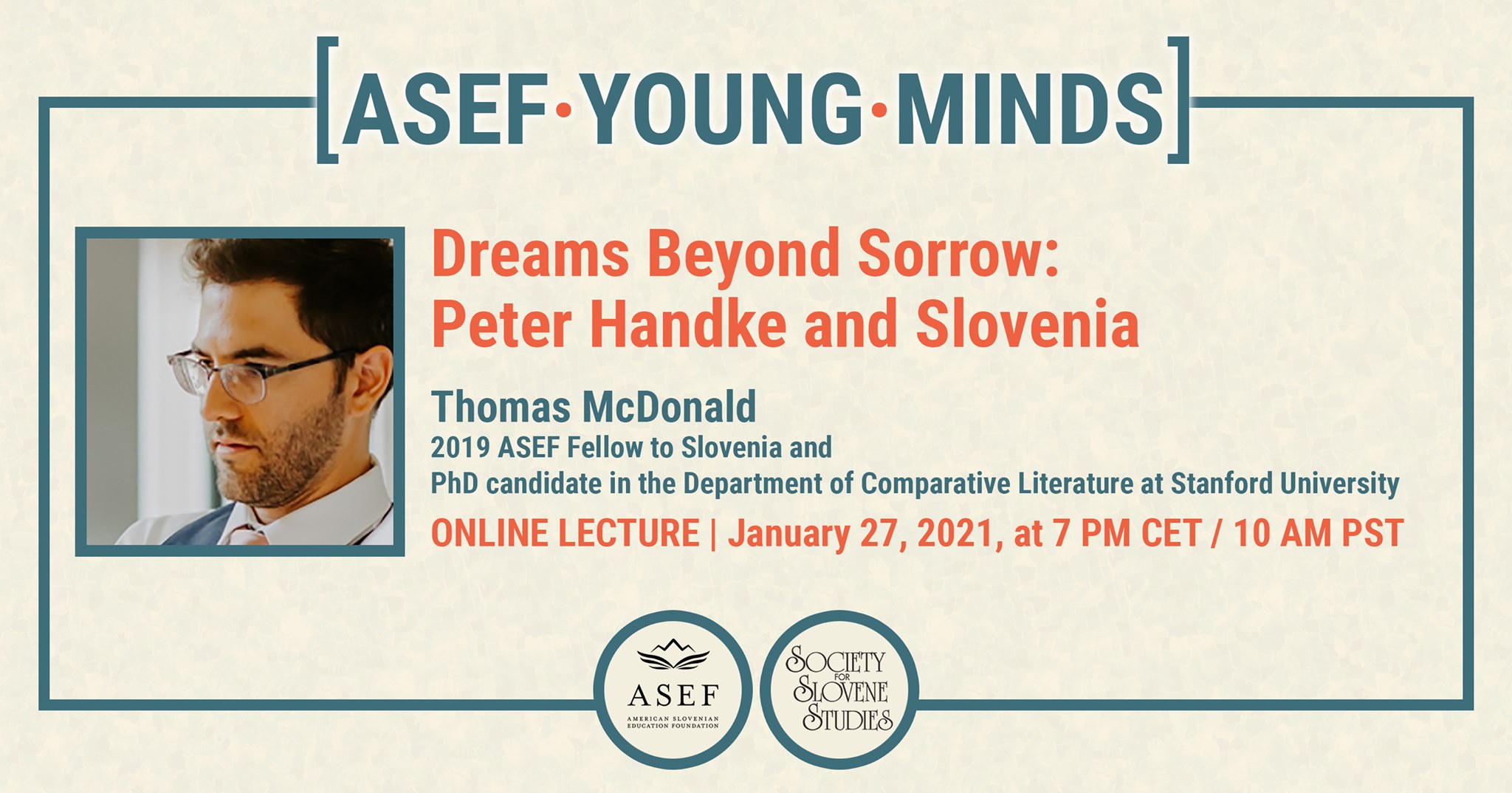 Thomas McDonald: Dreams Beyond Sorrow: Peter Handke and Slovenia
January 27, 2021 | 7:00 pm | Online
American Slovenian Education Foundation (ASEF) and Society for Slovene Studies organize a new ASEF Young Minds event. This time Thomas McDonald will deliver a lecture on Dreams Beyond Sorrow: Peter Handke and Slovenia. The lecture will be held in English on Wednesday, January 27, 2021, at 7 PM CET / 10 AM PST.
REGISTRATION
We ask attendees to register in advance until January 27, 2021, at 6 PM CET / 9 AM PST (one hour before the event). We will send a Zoom link to all those who registered for the event on time.
ABOUT THE LECTURE
Awarded the 2019 Nobel Prize for Literature, Austrian writer Peter Handke is perhaps better described today as a Carinthia-born, German-language epic lyrical prose writer, translator, and filmmaker of maternal Slovene heritage who has lived on the outskirts of Paris since the early 1990s. This identarian complexity, combined with the diligent attentiveness of his writing and his political essays during the Yugoslav Wars, has generally led to an overlooking of the significant and unique role that Slovenia has played through his career. In this presentation, Thomas will introduce Handke's work through the lens of Slovene language, literature, and culture. In particular, he will discuss the much-acclaimed 1972 A Sorrow Beyond Dreams, written when Handke was twenty-nine years old as a fictionalized memoir of his mother's life following her suicide, and he will focus on the work's potential for an aesthetic redemption of tragedy, drawing from Amalija Maček's recent Slovene re-translation (as Žalost onkraj sanj / Beletrina, 2020).
ABOUT THE LECTURER
Thomas McDonald is a PhD candidate in the Department of Comparative Literature at Stanford University, where he researches modern German-language, South Slavic (Slovene and Serbo-Croatian), and Japanese literature and film. In 2019, he was an ASEF Fellow in Ljubljana under the mentorship of historian Igor Grdina, Ph.DD., at the Research Center of the Slovenian Academy of Sciences and Arts (ZRC SAZU). At Stanford, he has studied Slovene with Prof. Marija Rode and has promoted the Slovene language through its prose and poetry, most recently in a virtual presentation through the Stanford Workshop in Poetics, focusing on the recently published edition of the late Fabjan Hafner's Slovene poems. His dissertation is on the work of Peter Handke and his connections to Japan.