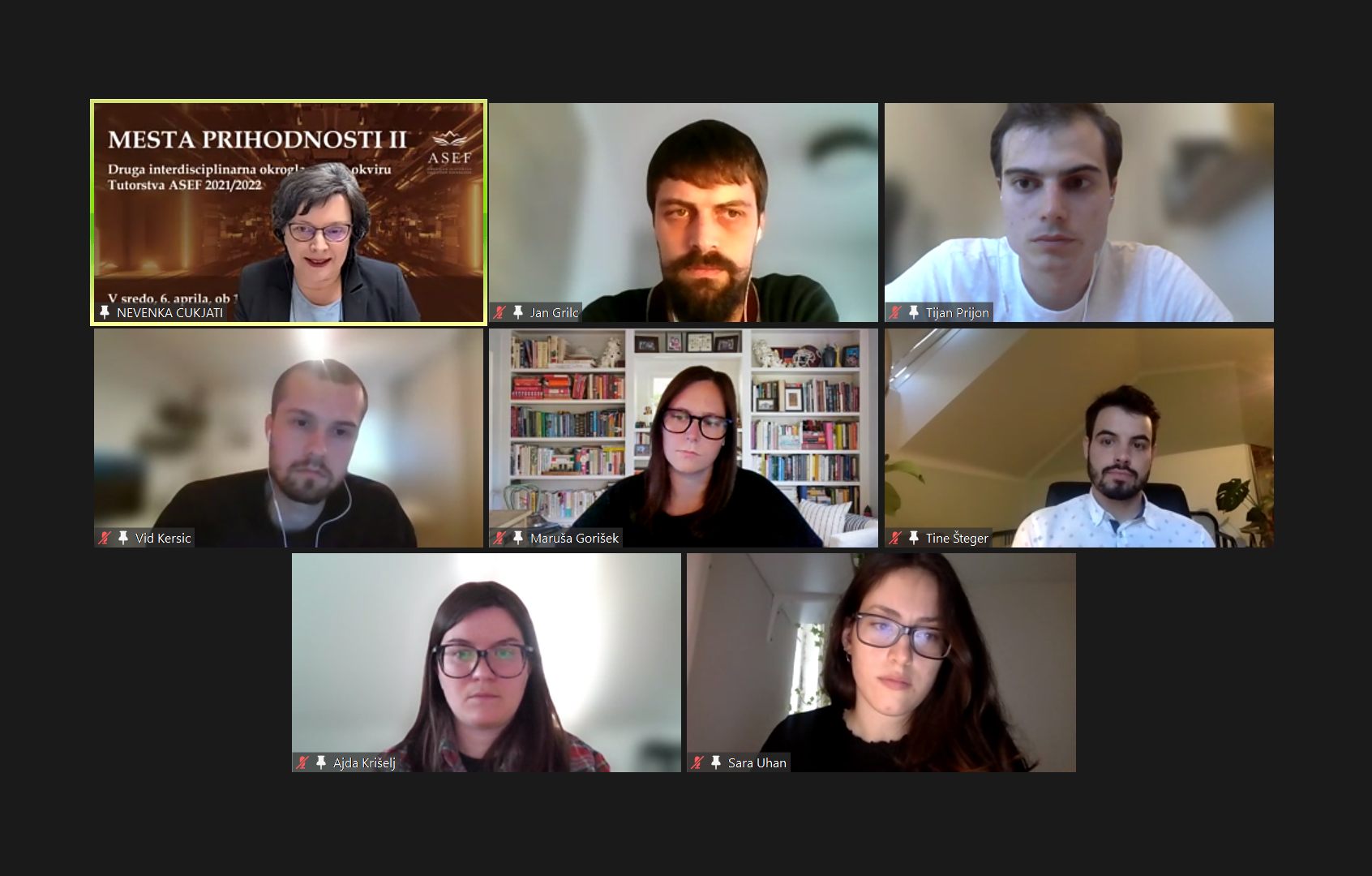 The Second ASEF Round Table is Marked by a Palette of Perspectives of the Future Cities
April 06, 2022 | 7:00 pm | Online
On Wednesday, April 6, ASEF organized the second interdisciplinary round table entitled Cities of the Future II as part of the ASEF Tutorial program 2021/2022.
Dr. Nevenka Cukjati, Director General of Operation SRIP PMiS (Strategic Development and Innovation Partnerships in the Field of Smart Cities and Communities) at the Jožef Stefan Institute, opened the round table. In her welcome address, she highlighted the role of technologies in the cities of the future, their connection with residents, and emphasized the importance of including diverse perspectives in meeting the challenges posed by urban development. Six ASEF Junior Fellows 2021, representing six tutoring groups, participated in the central part with their contributions.
Tine Štegar, a member of the tutoring group for economics and business informatics, presented how public passenger transport, where there is still a lot of room for improvement, was at the forefront of the group's discussion, and referred to the importance of finding good solutions. He highlighted the role of the state, local communities, experts and the population in the process of introducing improvements.
The tutoring group for the humanities, which is quite heterogeneous, addressed various topics in its group discussions – from the problematization of the city and funding the humanities, the work of cultural figures and the challenges they face, as well as how speaking skills affect employability and dignity work. Ajda Krišelj summed up conclusions of their group.
Sara Uhan presented the research progress of the biochemistry and chemistry group in the field of creating a joint article on innovation trends in the pharmaceutical industry. Members of the group review various models and determine their performance.
Tijon Prijon from the physics group discussed hydrogen as the energy of the future that could power vehicles and other devices. However, the exceptional advantages of hydrogen cells (eg energy per mass, emission-free performance) reduce the problems associated with hydrogen storage, so it will be necessary to focus on finding solutions to optimize storage.
The computer tutoring group, represented by Vid Keršič, analyzes traffic opportunities in more detail. The group conducted an experiment in a simulated environment, using the example of a bicycle sharing system in New York, using machine learning methods. Based on the obtained data, they asked themselves from which station how many bicycles should be transferred to where, and they achieved a 25% improvement in finding optimization options.
Maruša Gorišek, representing a group where political science and sociology share a place, highlighted the importance of citizen participation in thinking about smart city planning and sought the right place for experts in the context of political decision-making. She said science can in no way answer how we want to live; this can only be said by the citizens themselves.
The interdisciplinary round table was moderated by Jan Grilc, journalist, presenter and web editor at Val 202.