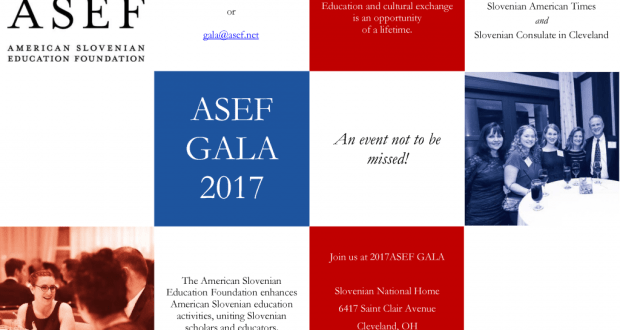 2017 ASEF Gala Invitation
March 07, 2017 | 6:00 pm | Slovenian National Home (Cleveland, Ohio)
American Slovenian Education Foundation (ASEF) cordially invites all supporters of the American-Slovenian educational community to come to its 4th annual gala. On Saturday, March 25, 2017, at 6 p.m., ASEF will celebrate the successes and aspirations of the last year. TheAnnual Gala event will take place at the Slovenian National Home in Cleveland, Ohio.
Join them to honor their awardees, exemplary in both educational pursuits and American-Slovenian relations. The evening will feature a wine reception hour showcasing educational innovations by Americans of Slovenian heritage and a sumptuous dinner with superb entertainment.
Evening Program
6:00 p.m.
Reception
7:00 p.m.
Entertainment and Greetings
ASEF Progress and 2017 Goals
7:30 p.m.
Dinner and Honoring of American Slovenian Inventors, Innovators and Educators with special attention to the books by Edi Gobec (also Dr. Edward Gobetz)
Special Guest Appearances
Dr. Edi Gobec
MCs: Tony Petkovšek and Mary Ann Vogel
Members of the ASEF Board of Directors and Advisory Board