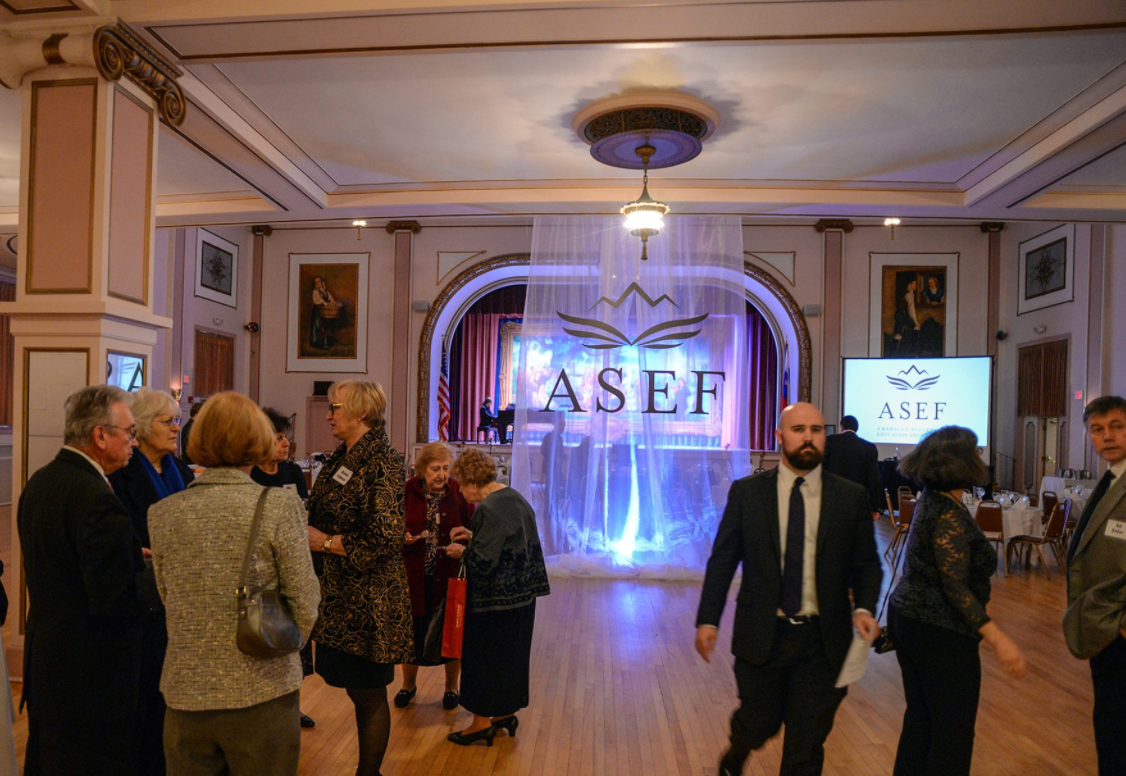 2017 ASEF Gala in US
March 26, 2017 | 6:00 pm | Slovenian National Home (Cleveland, Ohio)
On Saturday, March 25, 2017, the American Slovenian Education Foundation (ASEF) celebrated the successes and aspirations of the last year. The evening featured a wine reception hour showcasing educational innovations by Americans of Slovenian heritage and a sumptuous dinner with superb entertainment at the Slovenian National Home in Cleveland, Ohio.
The 4th Annual ASEF Gala was dedicated to American-Slovenian inventors, innovators and educators, presented by Dr. Edi Gobec. Dr. Gobec has spent most of his life diligently collecting and researching every person of Slovenian background that could be considered a candidate for 'who is who' in any field, and in American science and industry in particular.
His book 'Slovenian American Inventors and Innovators' is another of his attempts to honor and respect Slovenians who, with their work, had a great impact not only on the lives of Slovenians but of people all over the world. »Slovenians only represent one-tenth of a percent of the population in the U.S. however, we have contributed 3% of senators and 3% of astronauts to the U.S.«, highlighted Dr. Gobec, clearly demonstrating that Slovenians have an important role in the American society.
Another SLovenian, who had a great impact on technological development, is Dr. France Rode, who was also present at the Gala. He was the lead inventor of the first sophisticated pocket-size HP-35 calculator, was involved in the development of the first laptop, and holds numerous patents, including three for GPS.
Having the Gala in Cleveland was a unique opportunity for the ASEF to reach a broader Slovenian Community in the U.S. The event was enriched with Slovenian music performed by an all-male Slovenian singing group 'Mi Smo Mi', based in Cleveland, Ohio.
The Ambassador of the Republic of Slovenia to the US, Božo Cerar congratulated ASEF on its important work on establishing the connection between Slovenia and the U.S. in the field of education and science, and spoke in the name of distinguished sponsor Borut Pahor, President of the Republic of Slovenia, who expressed his utmost support to the work of the foundation.
Other extinguished guests who held inspirational speeches were Thomas Brandi, ASEF President, as well as Jure Leskovec and Peter Rožič, S. J., ASEF Co-founders. An AmCham Slovenia representative presented the Believe in SLovenia Project, which encourages further collaboration between scientists, innovators, and businesses.
The 4th Annual ASEF Gala and Fellowship program thus far could not be possible without the help of donors: Thomas J. and Carol S. Brandi, Jure Leskovec, American Mutual Life Association, Slovenian-American Times, KSKJ Life, Haritude Ventures: David Sipoš, Joseph A Novak & Marjeta Novak, France Rode & Maria J. Rode, Boris Music and Hansa Brewery, Anton Mavretič & Martina D. Mavretič, Peter F. Orazem & Patricia M. Cotter, Mario L. Starc & Helena M Pechaver Starc, Tom Srsen and Sheliga Drug, Inc., Slovenian Genealogy Society International, Inc., Mary Lou Vidergar & Frank M Videgar & Lisa V Lucas, Johnny and Angie Young.