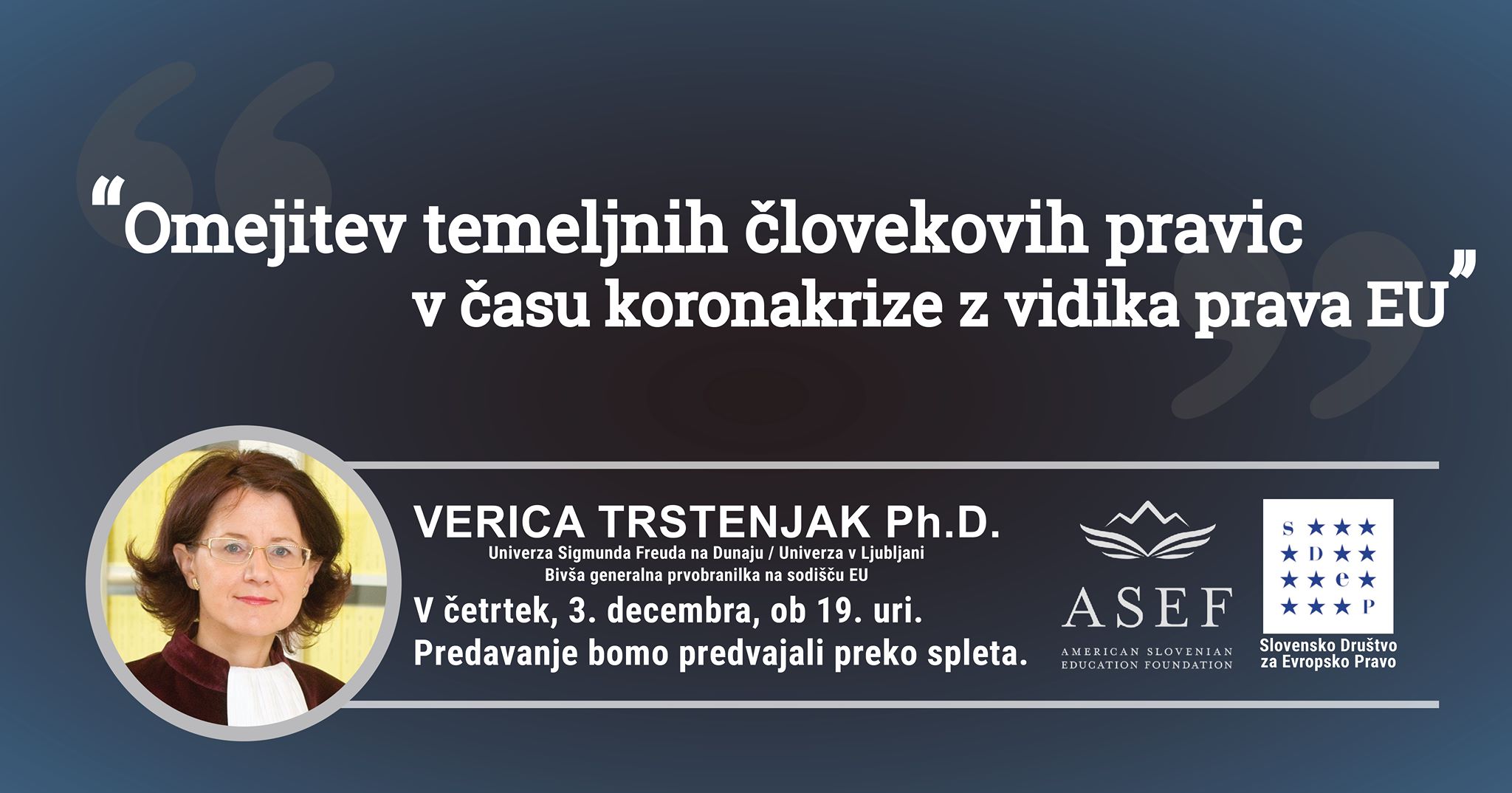 Verica Trstenjak: Restrictions on Fundamental Human Rights at the Time of the Corona Crisis in Terms of EU Law
December 03, 2020 | 7:00 pm | Online
American Slovenian Education Foundation (ASEF) and the Slovenian Society for European Law (SDEP) are organizing a new lecture as part of the ASEF Speaker Series. The lecture will be given by Verica Trstenjak, Ph.D. entitled "Restrictions on fundamental human rights during the crowning of the crisis from the point of view of EU law".
ABSTRACT
In 2020, the world was surprised by the t.i. the crowning crisis, which affected many areas. States have taken special measures that in some cases have also restricted human / fundamental rights. Several legal issues are essential in this regard. Which rights and when do they apply in the Member States, when can they be restricted and under what conditions? In practice, the protection of health and the right to life have almost always been opposed to fundamental rights, which have been at least partially restricted (eg freedom of movement or the right to liberty, protection of personal data, restriction of freedom of economic initiative). The lecture will present possible restrictions on rights, the importance of proportionality and the assessment of a fair balance in the event of a clash of several rights from the point of view of EU law, especially with regard to the EU Charter of Fundamental Rights.
BIO
Verica Trstenjak, PhD, professor of European law, lectures at the University of Ljubljana, Sigmud Freud at the University of Vienna and at the LLM program at the University of Vienna. In Slovenia, she was employed at the Ministry of Science and Technology, most recently as State Secretary. In 2004, she was appointed a judge at the General Court of the EU and then, from 2006 to 2012, she was Advocate General at the Court of Justice of the EU in Luxembourg. She is a member of the management of many European and international associations and research institutions (eg Max Planck Institute Luxembourg), as a visiting professor she has lectured in most EU countries, as well as in Sydney, Montreal, Los Angeles, New York, San Francisco, Singapore, Tokyo, Seoul, Kazakhstan and elsewhere. Dr. Trstenjak has published several books in European and civil law and more than 300 articles, most of them abroad. Since 2017, he has been a member of the management board and executive board at the EU Agency for Fundamental Rights in Vienna. In 2020, she received the Austrian Cross of Honor for Science and Art of the First Order.