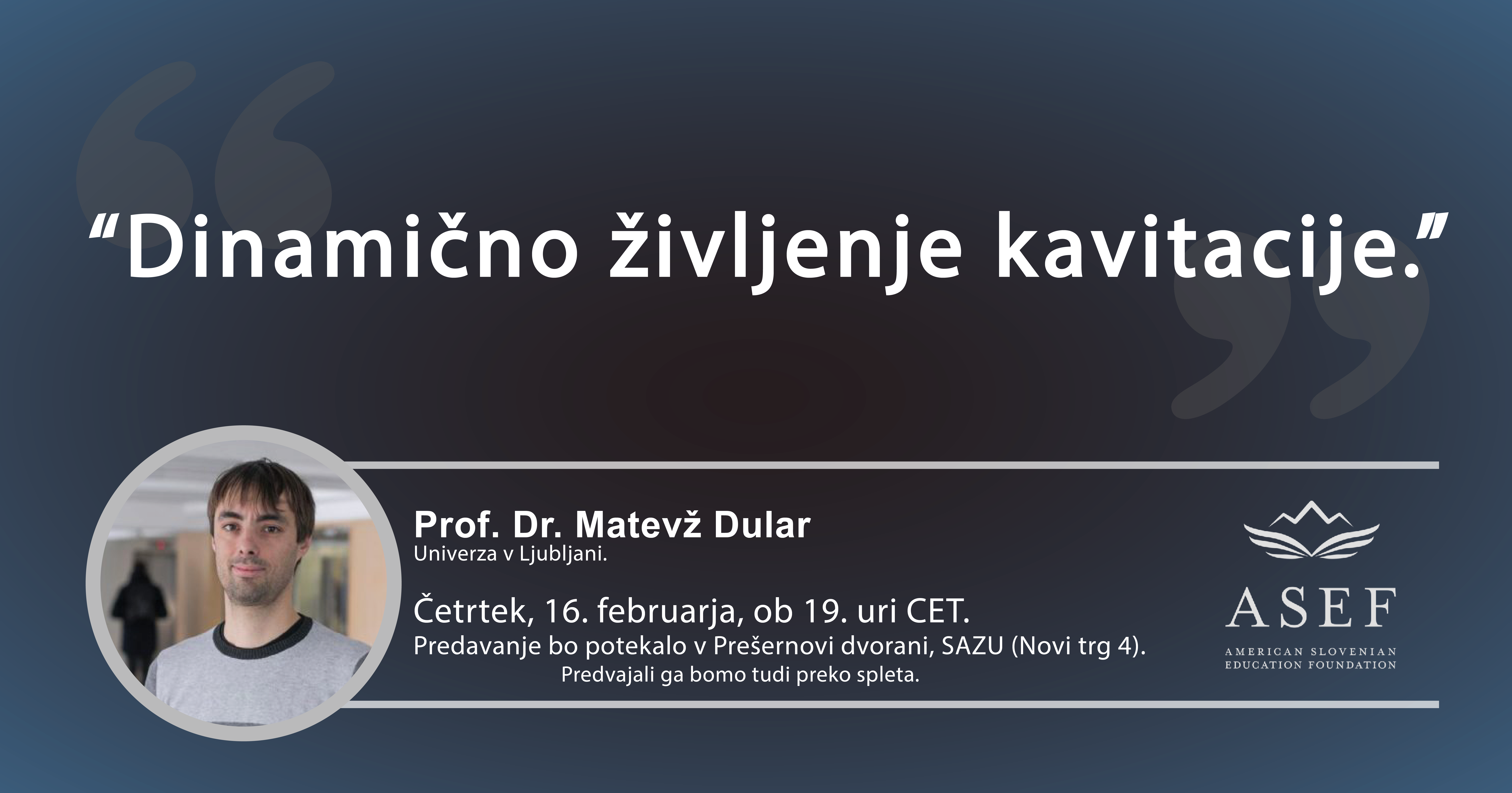 Prof. dr. Matevž Dular: The Dynamic Life of Cavitation
September 22, 2023 | 6:18 pm |
The American Slovenian Education Foundation (ASEF) is organizing a new popular science lecture entitled The Dynamic Life of Cavitation as part of the ASEF Speaker Series. The lecture will be held by prof. dr. Matevž Dular.
The lecture will take place on Thursday, February 16, starting at 7 p.m. in a hybrid version, in the Prešern Hall at SAZU (Novi trg 4, 1000 Ljubljana) and via Zoom. Pre-registration for the lecture must be done by February 16 at 6 p.m. at the latest. When registering for the event, the type of participation is selected (at the location or via Zoom). All registered participants via Zoom will receive a Zoom link to their email address before the event.
THE DYNAMIC LIFE OF CAVITATION
Cavitation—the vaporization and recondensation of a liquid due to a sudden change in local pressure—has been a headache for engineers for more than 100 years. We associate it with a drop in the efficiency of turbine machines, vibrations, noise and material erosion.
The central thread of the lecture will be research into the dynamic behavior of the cavitation flow and its negative consequences (for example, erosion), which the lecturer has carried out in Germany, France, Slovenia and again in Germany over the last 20 years. This will be followed by a description of the transfer of knowledge to the field of application of cavitation for the destruction of contaminants (viruses and bacteria), which is the central theme of the ERC projects CABUM and CaviPhy.
ABOUT THE LECTURER
Prof. dr. Matevž Dular works at the University of Ljubljana, Faculty of Mechanical Engineering. He deals with both basic and applied research in the field of cavitation and engineering fluid dynamics. In 2002, he graduated from the University of Ljubljana. He continued his studies at the Technical University of Darmstadt in Germany and received his doctorate in 2005. As a researcher and visiting professor, he worked abroad for several years – in Lille, Heidelberg, Colorado Springs and Magdeburg. In 2017, as one of the youngest, he became a full professor at the University of Ljubljana.
He led two projects for the European Space Agency (ESA), and in 2017 he managed to obtain funding for a 5-year research on cavitation and its possible applications in water purification at the tender of the European Science Council. In 2022, it received a second ERC project for the commercialization of water purification technology. In 2019, he received the Zois award for his important contribution to the understanding of the phenomenon of cavitation, and in 2020, the Bessl Prize, awarded by the Alexander von Humboldt Foundation.
The ASEF Speaker Series project is made possible with the financial support of the Government Office for Slovenians Abroad and the Office of the Republic of Slovenia for Youth.