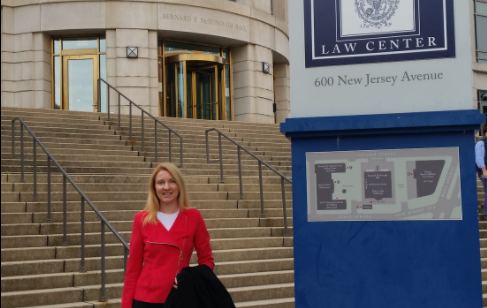 Petra Janež Will Present ASEF Junior Fellows program At Career Centers of UL
October 26, 2021 | 4:00 pm | Virtualno
Next week, Petra Janež will present the ASEF Junior Fellows program to students of social sciences and humanities, which provides the opportunity for a 10-week research visit abroad, mentoring a Slovenian professor and participating in a 3-year program of non-formal education and research in Slovenia.
WHEN? Tuesday, Oct. 26, at 4 p.m. Registration for the event Career Centers of the University of Ljubljana: https://bit.ly/3E676KC.
In 2018, Petra was on a research visit to Washington DC in the USA at Georgetown University, where she worked under the mentorship of law professor Urška Velikonja.
THE CALL FOR ASEF JUNIOR FELLOWS 2022 IS OPEN. More info: https://bit.ly/3lR1GwV.