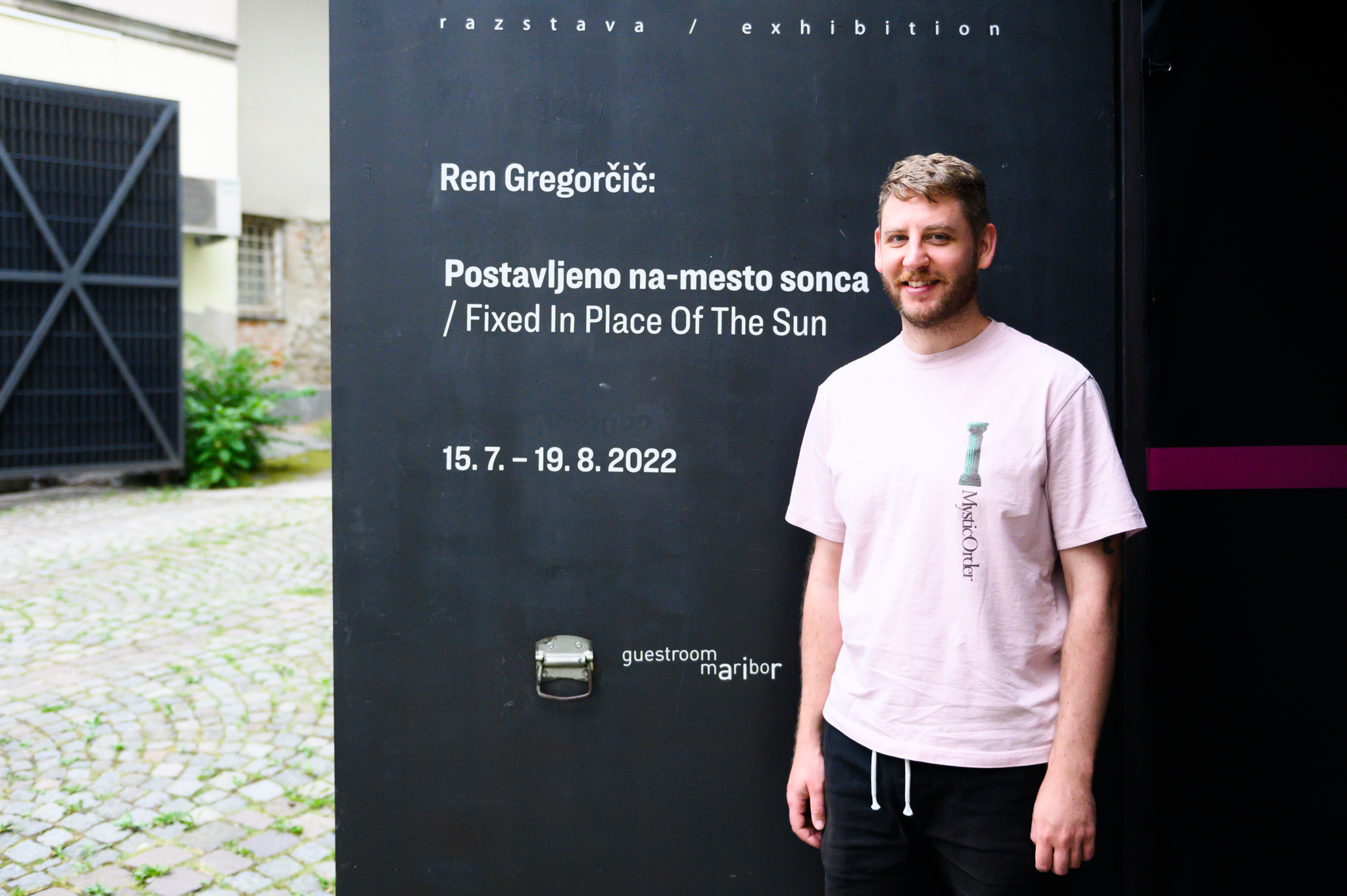 Opening of the exhibition "Fixed In Place Of The Sun" by ASEF Junior Fellow Ren Gregorčič
December 03, 2023 | 9:44 am |
On Friday, July 15, the exhibition "Put in the place of the sun" by ASEF Junior Fellow from Australia Ren Gregorčič was opened. It is located at the exhibition space Vetrinjski in Maribor and it is Ren's first exhibition in Slovenia. Before the opening and guided tour of the artworks, Ren sat down for a conversation with Maja Pan, a philosopher and cultural critic.
For an introduction, we learned more about Ren, his academic and artistic path, and his plans for the future. During the further conversation, Ren and Maja discussed Ren's interest in concrete, general curiosity about what things are made of, and the conceptual background of the exhibition and Ren's other works. The artist is mainly interested in the effect that concrete causes and not the design of concrete structures themselves. Ren commented that there is no system that is completely irresistible to change and that there is nothing that couldn't be altered. They also addressed the environmental and political issues of water, concrete, capitalism, and climate change.
Ren presented photogrammetry, a technique he uses for his artwork. It provides a multisensory experience of objects to individuals. They also talked about the meaning behind the title of the and what the sun represents to the artist. Ren emphasized that the sun is an important concept for him, which, together with the moon, represents the ultimate concept of change. Maja also brought up his relationship with his Slovenian heritage, which Ren connected to the concrete dragons on the Dragon Bridge in Ljubljana. The dragons are a strong symbol of Slovenia, especially for those abroad.
After the comprehensive conversation, the event moved to the exhibition space for the official opening and a guided tour of the works. Ren is presenting three pieces at the exhibition. Two were created in Slovenia, and the third one was created in Canberra, Australia. The artworks are placed in the exhibition space in a way that highlights the architectural elements and involves them in the story.
The work, which was made in Australia, is the author's response to Haig Park in Canberra. The park is a man-made line of trees that are not native to Australia and serve as a shelterbelt. The focus point of the exhibition are the structures of concrete dragon statues from the Dragon Bridge in Ljubljana. The author placed them in the exhibition space with the help of photogrammetry, reconstruction, video, and sound. The dragons were intentionally placed in the arches of the space so the architecture plays a part in the exhibition.
The opening of the exhibition ended with Ren thanking everyone who helped make it happen saying that art never happens solo.
The exhibition is available for viewing until August 19th every weekday between 1 pm and 6 pm at the exhibition space Vetrinjski in Maribor.
Photographs: Filip Bojanič, Gregor Salobir