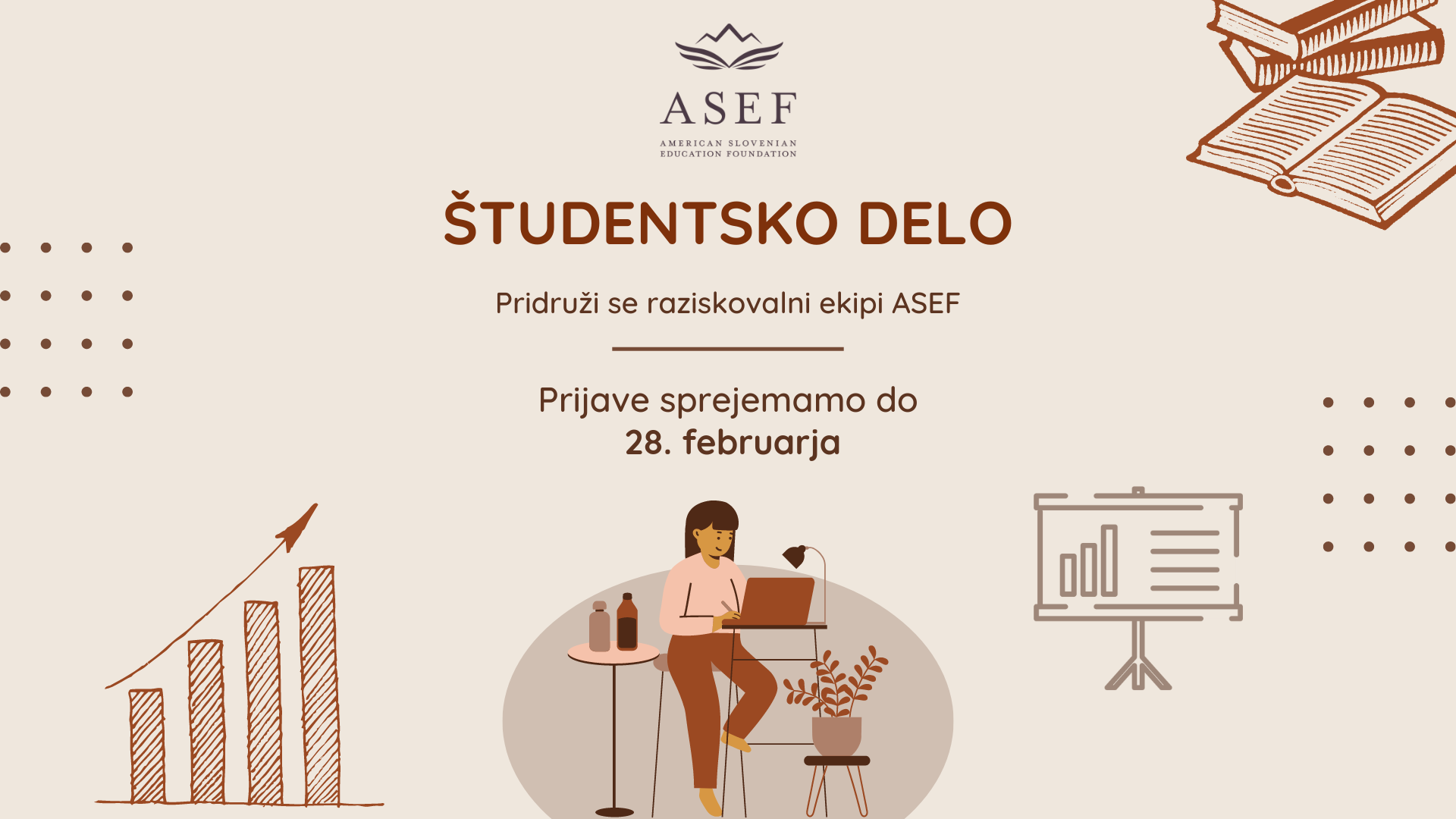 Opportunity for Student Work: Research Work
Are you looking for new challenges in social science research together with a team of highly motivated and positive people with ideas and vision? Join the ASEF research team!
About ASEF:
The American Slovenian Educational Foundation (ASEF) connects young educated Slovenians at home and around the world, and with its programs provides plenty of opportunities for growth and development. Research work on individual quantitative and qualitative research projects plays an important part in the organization. This includes the following topics: Slovenian emigration and migration, brain circulation, modern Slovenian emigration, return of Slovenian experts, Slovenian diaspora as soft power, transatlantic cooperation, digital transformation of Slovenian emigration communities, the position of Slovenians around the world, the potential of Slovenians around the world.
Scope and location of work:
Around 10 hours/week (depending on the project)
Mostly from home or if necessary at the location in Ljubljana
Payment:
Scope of work:
Help with quantitative social science research (simple and advanced statistical analyses)
Help with qualitative social science research (interviews, focus groups)
Help in preparing presentations of research results and findings
Help in the preparation of substantive reports of research projects
Other works
Candidates receive:
Gaining professional experience in social science research
Excellent mentorship
Work in a motivated team and a pleasant environment
Possibility of long-term cooperation
What is expected from candidates:
Organization, responsiveness, reliability and accuracy
Completed at least level 5 education
Good knowledge of quantitative and qualitative social science methodology
Good knowledge of programs for statistical data management and statistical data analysis (e.g. SPSS, R)
Good knowledge of programs for creating and editing texts, presentations and tables
We are accepting motivation letters and CVs together with examples of the results of past works and a printout of grades until February 28 at the link below.
The application is avalible only in slovenian.