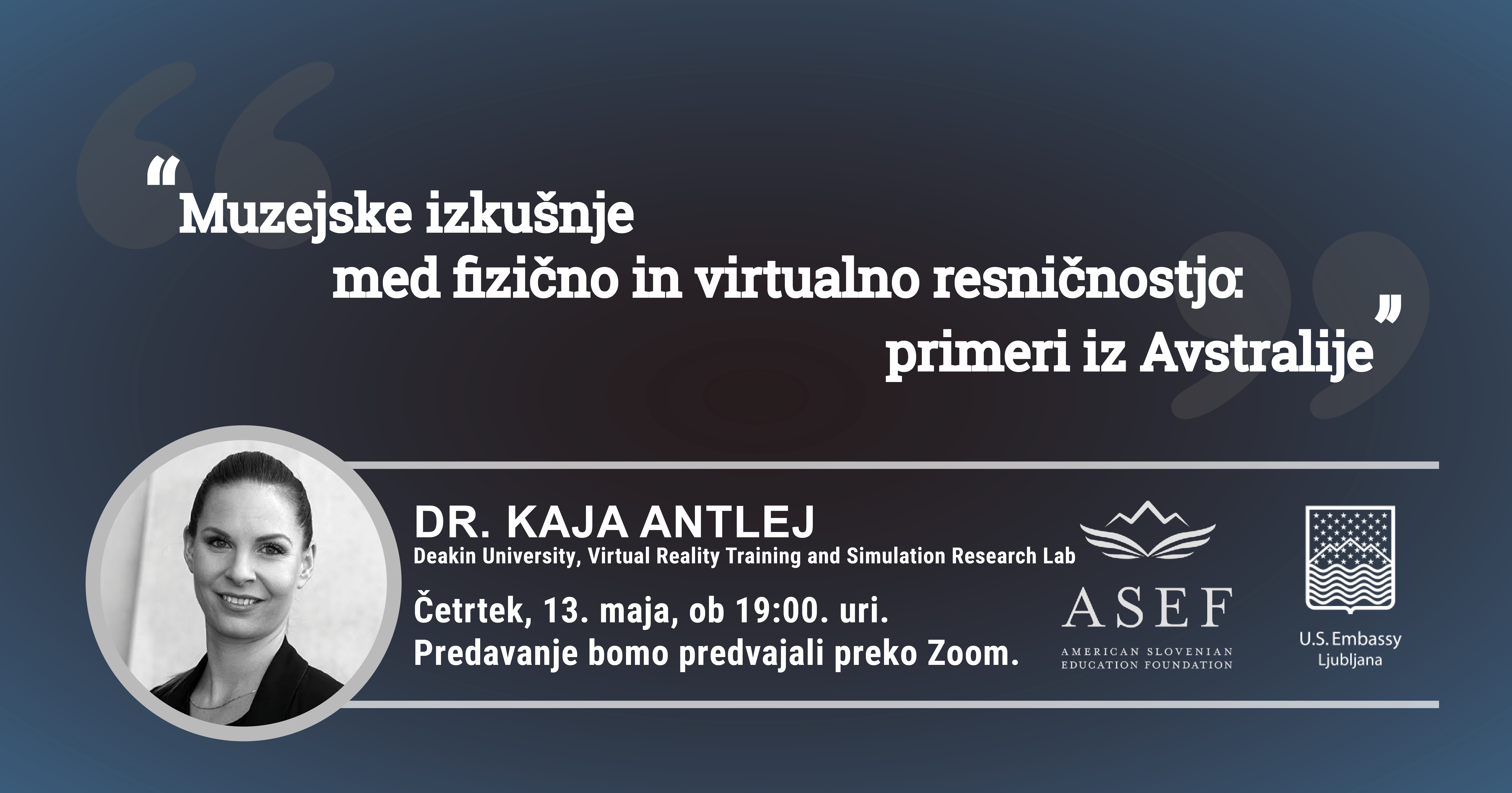 Kaja Antlej: Museum Experiences Between Physical and Virtual Reality: Examples From Australia
May 13, 2021 | 7:00 pm | Online
Only two days separate us from the new lecture ASEF Speaker Series, organized by the American-Slovenian Educational Foundation (ASEF). This time we will be joined by dr. Kaja Antlej with a lecture: "Museum Experiences between Physical and Virtual Reality: Examples from Australia".
Please register for the lecture by 6pm on 13 May. All entrants will receive a Zoom link to their email address before the event.
LECTURE TOPIC
In the lecture, we will talk about the use of 3D digital technologies for the creation of participatory and inclusive museum experiences, their design, production, and evaluation. Experiences presented in the form of virtual and mixed reality, serious games, and as tactile 3D printed reconstructions include content from the field of interpretation of cultural and natural heritage as well as communication of science. Examples from Australia include museum applications in the fields of paleontology, the design and engineering heritage of post-industrial cities, opera and theater, space, architecture, archeology and ethnology.
ABOUT THE LECTURER
Dr. Kaja Antlej is a lecturer in industrial design at Deakin University and a researcher in the Virtual Reality Laboratory (CADET). The lab focuses on how virtual reality (VR), augmented reality (AR) and 3D printing could be used in museums to better communicate museum and heritage content. She began her career at the University of Ljubljana, where she graduated in 2008 in industrial design and in 2013 completed a doctorate in museum and heritage studies. She continued her career in Australia, where she completed her postdoctoral studies at the University of Canberra in 2015, for which she received an Endeavor Fellowship (Australia's Fulbright). Dr. Antlej has also participated in many high-profile projects and is one of the leading researchers in the project "The Little L Project immersive experience", which has received many praises from various companies and other organizations. She is also a member of many organizations such as ICOM, AMaGA, Interpet Europe and AAM, and works as a group leader in the VRARA Asia Pacific Digital Heritage CoP group. Dr. Antley is an alumnus of the Southern Hemisphere Space Studies Program (SHSSP21) at the International University of Space Studies and the University of South Australia. Dr. Antlej is also a co-founder and president of the Slovenian-Australian Academic Association (SAAA), a member of the Association of Slovenes Educated Abroad (VTIS) and one of the mentors at the American-Slovenian Educational Foundation ASEF.