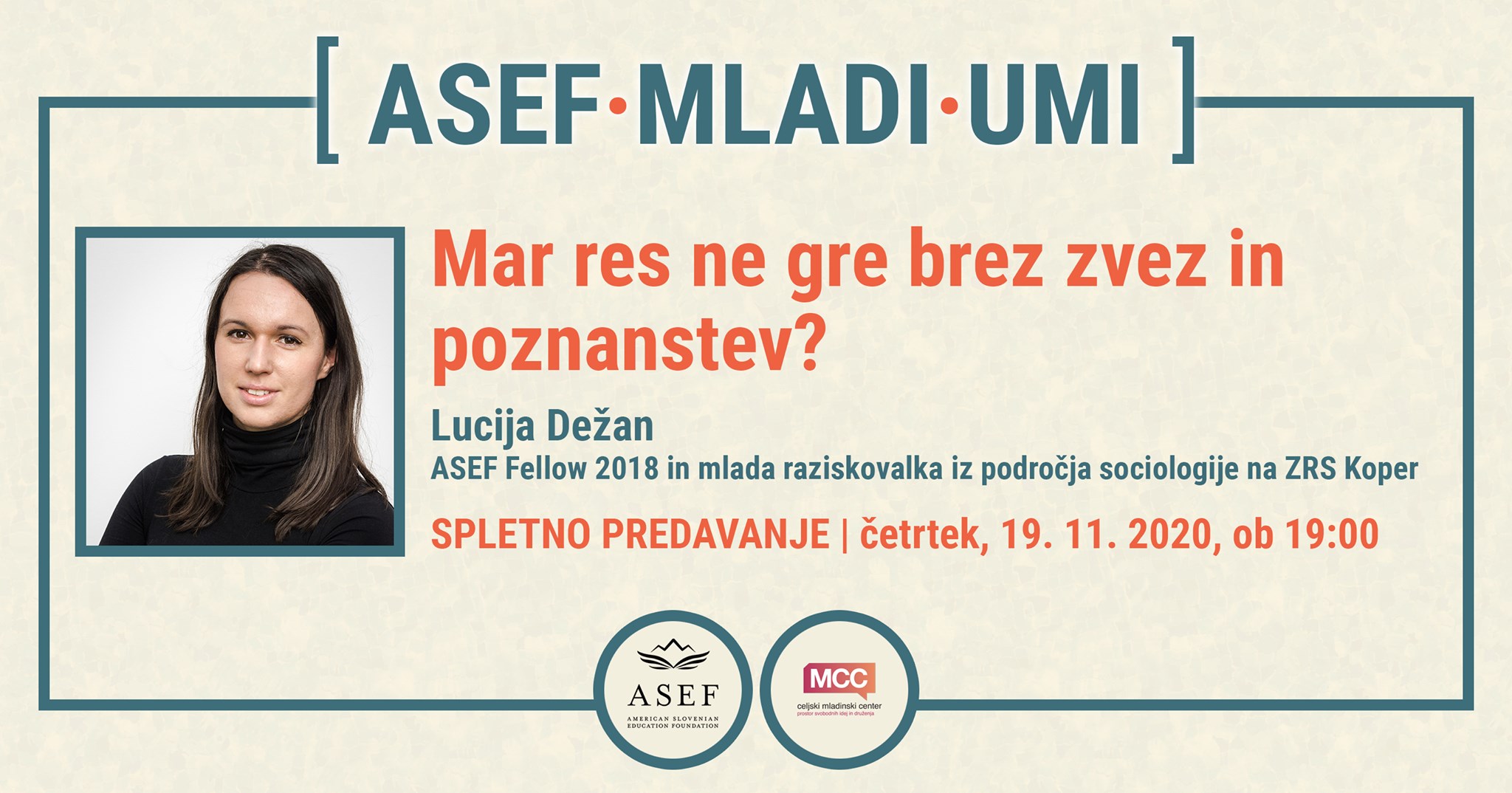 Lucija Dežan: Is It Really Possible Without Connections and Acquaintances?
November 19, 2020 | 7:00 pm | Online
ASEF in cooperation with the Celje Youth Center presents an online popular science lecture by Lucija Dežan, ASEF Fellow 2018, and young researchers in the field of sociology at ZRS Koper. The lecture will present how young people start looking for a job, and what is the role of relationships and acquaintances in this. The lecture held in Slovene will take place online on Thursday, November 19, 2020, at 7 PM CET.
REGISTRATION
To view the lecture, you must register by November 19, 2020, at 6 PM CET latest. The Zoom link for access and the code for asking questions will be sent to all registered users by e-mail on the day of the event.
ABOUT THE LECTURE
Finding and getting employment is an important step in the life of an adolescent leading to adulthood. With the successful conclusion of an employment contract, in addition to financial stability and economic independence, the young person also acquires the opportunity to become housing independent, create a secondary family and test himself in a new social (professional) role. There are several ways in which young people start looking for employment, and the role of individuals in social networks is not negligible. The lecture will present the attitudes of young people towards the use of associations and acquaintances in finding employment, how widespread are such practices in youth employment in Slovenia, who are the people who most often help young people when they use associations and acquaintances, and what employment through associations and acquaintances brings to businesses.
ABOUT THE LECTURER
Lucija Dežan is a young researcher, doctoral student, assistant, and master of sociology. In 2018, with the help of ASEF, she visited the University of Oklahoma in the USA, where she was mentored by Dr. Ana Bračič and conducted fieldwork during the US midterm elections. Lucija also studied the attitude of emigrated Serbs towards refugees from Syria. She has a master's degree in the use of relationships and acquaintances in job search among young people in 10 countries in SE Europe. Her master's thesis was selected for the best master's thesis in the field of youth in Slovenia in 2019, selected by the Youth Council of Slovenia (Mladinski Svet Slovenije). As a young researcher, she is currently working on ways to integrate immigrant pupils and students into the school and wider community as part of the international project MiCREATE (Migrant Children and Communities in a Transforming Europe).