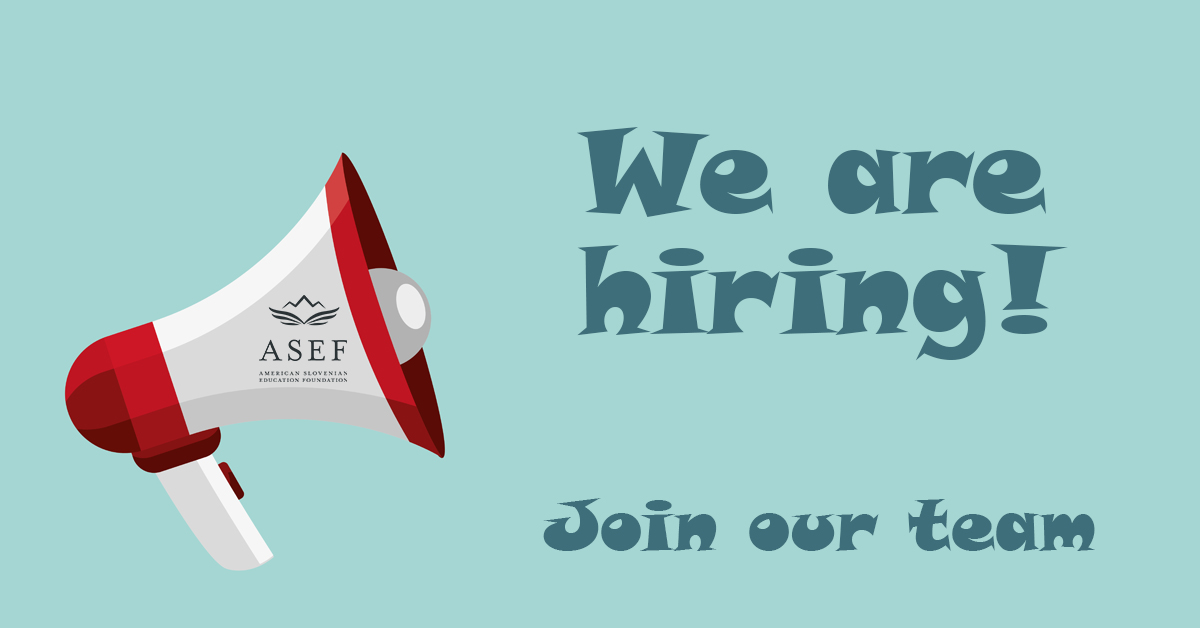 Job Offer: ASEF Program Manager
The American-Slovenian Educational Foundation (ASEF) is announcing the position of ASEF Program Manager. The work offers challenges in an international environment together with a top team of motivated and positive people with ideas and vision.
ASEF:
ASEF connects young educated Slovenes at home and around the world and with its programs provides plenty of opportunities for growth and development. The main programs of the NGO are a Fellowship program for research visits to Slovenian professors at renowned foreign universities (eg Stanford, Harvard, Princeton) and a Fellowship program that enables Slovenians around the world to pay research visits to Slovenian universities, research institutes and companies. In recent years, new programs have been developed that only upgrade the original idea (eg ASEF Tutoring, ASEF Speaker Series, ASEF Young Minds).
Scope of work:
Coordination of scholarship programs for research visits abroad and research visits to Slovenia (preparation and plan, monitoring of implementation, communication with participants and external communication, reporting, evaluation)
Implementation of other programs and projects (activities)
Planning, organization, implementation and evaluation of educational events
Preparation of demanding and less demanding materials and texts
Data collection and editing
Preparation of marketing materials and promotional activities
Website and social media management
Other organizational and administrative work
What do we offer?
Full-time and indefinite employment (with a 6-month probationary period) in an office in Ljubljana
Pleasant international work environment and work on projects you will be proud of
Cooperation with eminent individuals and institutions in Slovenia and around the world
Motivated and positive team
Career opportunities
What do we expect?
Self-initiative, independence, diligence, accuracy, reliability
Excellent organizational and communication skills for the coordination of programs and events
Excellent knowledge of Slovenian and English
Good knowledge of programs for creating and editing texts, presentations and tables
Completed at least 6th level of education
Knowledge of basic design programs is an advantage (eg Canva)
Previous experience in the field of organization / administration / marketing is an advantage
! The application must be submitted in Slovene language. We will process all received applications on an ongoing basis and accept them until the place is filled.