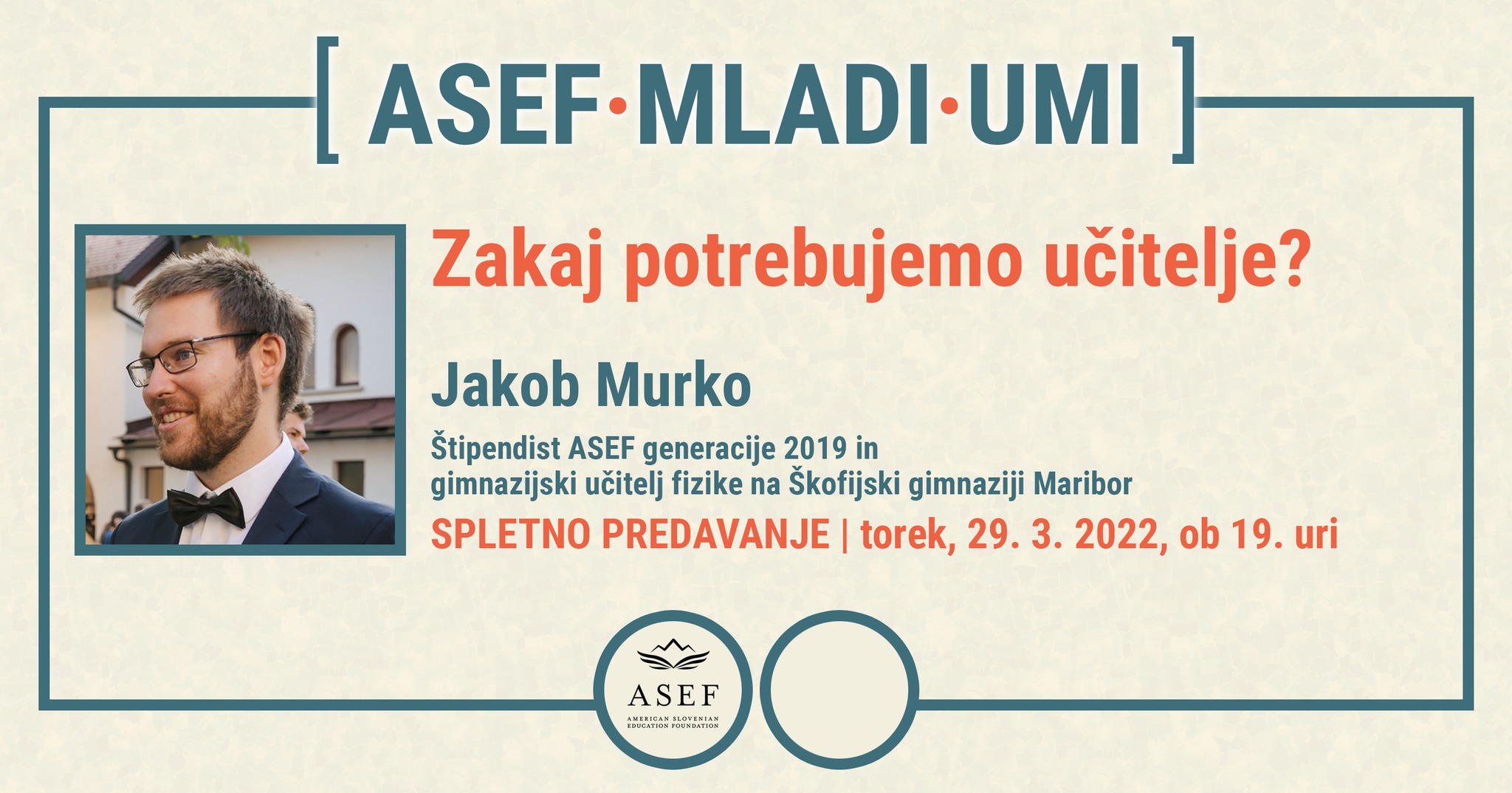 Jakob Murko: Why Do We Need Teachers?
March 29, 2022 | 7:00 pm | Online
ASEF is organizing an online popular science lecture in the series ASEF Young Minds, which will be implemented on Tuesday, March 29, at 7 pm by Jakob Murko, ASEF Junior Fellow Generation 2019, who is Scholar and High School Physics Teacher at the Diocesan High School Maribor.
REGISTRATION
To attend the lecture, you have to register in advance until March 29 at 6 pm at the following link. All registered to the event will receive a Zoom link on their email address on time.
ABOUT THE LECTURE
Who is a good teacher? Some of teaching experiences will be shared with us by the high school physics teacher, who will tell us what challenges he faces, how he tries to make the lessons innovative and interesting, and how to arouse students' interest and research. He will also introduce us to the pros and cons of a teacher's career compared to working in academia and explain why we all need good teachers so much. He will also briefly touch on the ASEF visit and the Maister supercomputer he has worked on in the past.
ABOUT THE LECTURER
Jakob Murko is a high school physics teacher at the Diocesan Gymnasium in Maribor, which he also attended as a high school student years ago. After high school, he studied physics at the Faculty of Natural Sciences and Mathematics in Maribor and completed his master's degree. In order to find out what career path to take, he also visited prof. Jure Leskovac at Stanford as part of an ASEF visit, where he researched the connection between different system events in Linux systems based on graph theory. He was employed for one year as a systems engineer of the HPC Maister supercomputer at the University of Maribor, and has been teaching physics for many years now. He is a happily married and newlywed dad.
ASEF YOUNG MINDS
ASEF Young Minds is a series of popular science lectures by young people, which encourages young people to present their research work and experience gained within the ASEF Junior Fellowship in a way that is accessible and understandable to the general public. In the project, ASEF connects with local organizations operating in the places where the lecturers come from. Through cooperation, the aim is to connect and integrate young intellectuals into the local Slovenian environment.