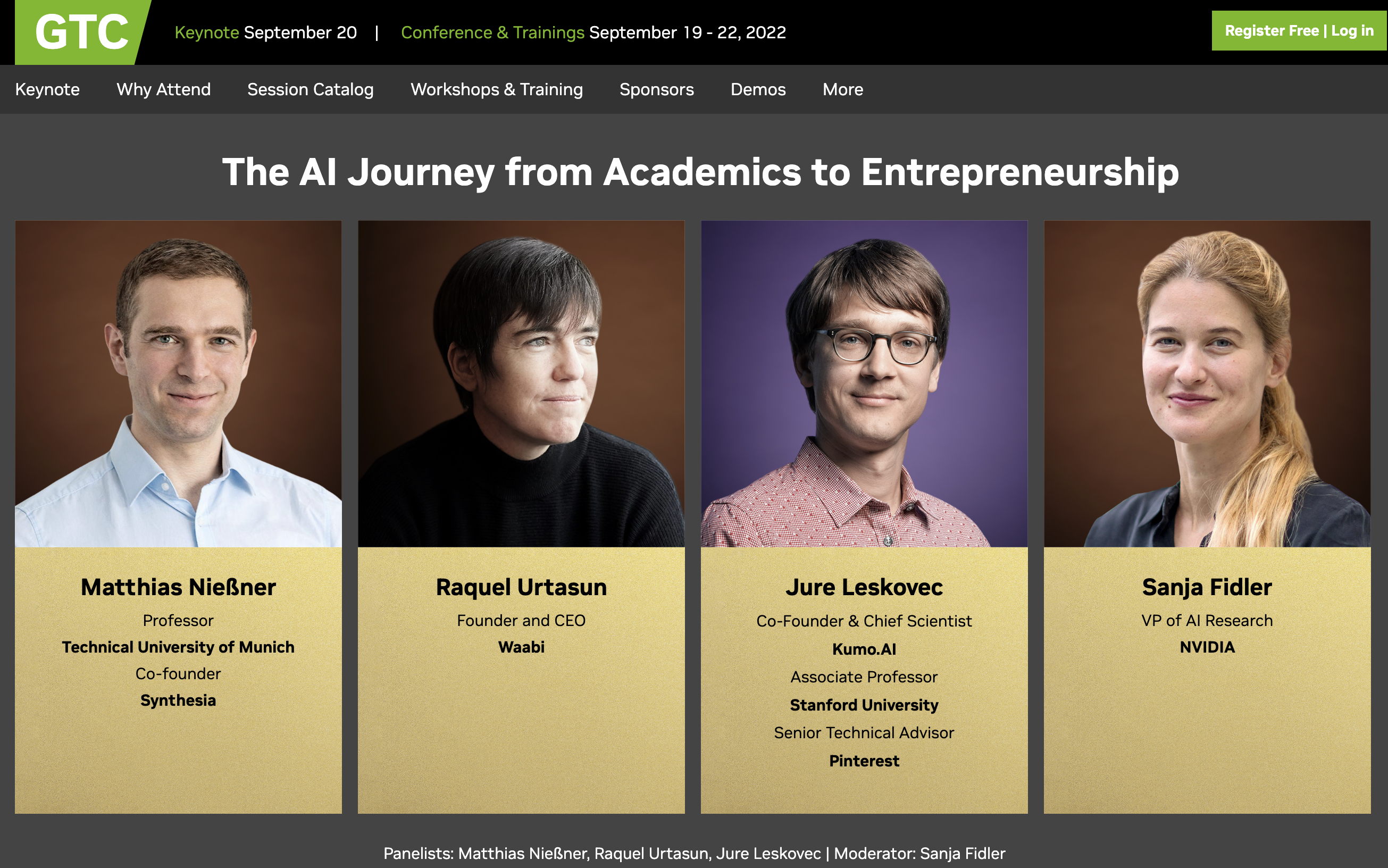 Invitation to the Technology Conference for the Era of AI and the Metaverse
December 01, 2023 | 12:41 pm |
We are proud to share that our two ASEF Mentors, 𝐉𝐮𝐫𝐞 𝐋𝐞𝐬𝐤𝐨𝐯𝐞𝐜 (ASEF Co-Founder, Assoc. Prof. at Stanford University, Co-Founder of Kumo.AI, Senior Technical Advisor at Pinterest) and 𝐒𝐚𝐧𝐣𝐚 𝐅𝐢𝐝𝐥𝐞𝐫 (Vice President of AI research at NVIDIA, Assoc. Prof. at University of Toronto, Co-Founder of Vector Institute), will be one of the highlights of the upcoming 𝐓𝐡𝐞 𝐓𝐞𝐜𝐡𝐧𝐨𝐥𝐨𝐠𝐲 𝐂𝐨𝐧𝐟𝐞𝐫𝐞𝐧𝐜𝐞 𝐟𝐨𝐫 𝐭𝐡𝐞 𝐄𝐫𝐚 𝐨𝐟 𝐀𝐈 𝐚𝐧𝐝 𝐭𝐡𝐞 𝐌𝐞𝐭𝐚𝐯𝐞𝐫𝐬𝐞, hosted by tech giant NVIDIA, which has "pioneered accelerated computing to tackle challenges that otherwise can't be solved."
The online conference will be held on September 19-22, 2022.
Our mentors will be part of the section titled 𝑻𝒉𝒆 𝑨𝑰 𝑱𝒐𝒖𝒓𝒏𝒆𝒚 𝒇𝒓𝒐𝒎 𝑨𝒄𝒂𝒅𝒆𝒎𝒊𝒄𝒔 𝒕𝒐 𝑬𝒏𝒕𝒓𝒆𝒑𝒓𝒆𝒏𝒆𝒖𝒓𝒔𝒉𝒊𝒑.
Stay tuned and register for free at the link below.
Last but not the least, ASEF has just opened a new call for the ASEF Fellowships. Apply now to become an ASEF Junior Fellow and work under the mentorship of our mentors in 2023.