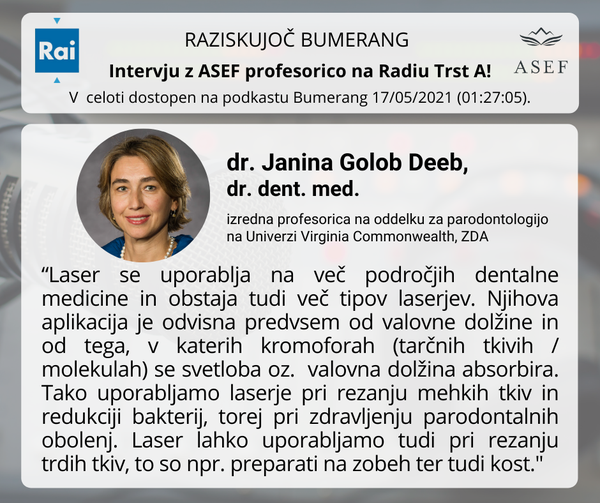 In the Last Show "Exploring Boomerang" About Laser Treatment of Dental Diseases (Dr. Janina Golob Deeb)
Dr. Janina Golob Deeb, an associate professor in the Department of Periodontology at the University of Virginia Commonwealth, participated in the "Exploring Boomerang" section. She described approaches to treating dental disease with modern instruments such as lasers. It has also highlighted the many ongoing research in the field of dental medicine that serves as an insight into the health of the entire human body.
On Monday, May 17, we recorded the 19th interview with ASEF professors on Radio Trieste A! Every Monday at around 4.30 pm, one of the more than 50 Slovenian professors who work all over the world and connect with their homeland via ASEF will perform live.
The recording of the show is available as a Boomerang podcast part 17/05/2021 and starts at 01:27:05: https://bit.ly/2QSUT9s
You are kindly invited to listen!