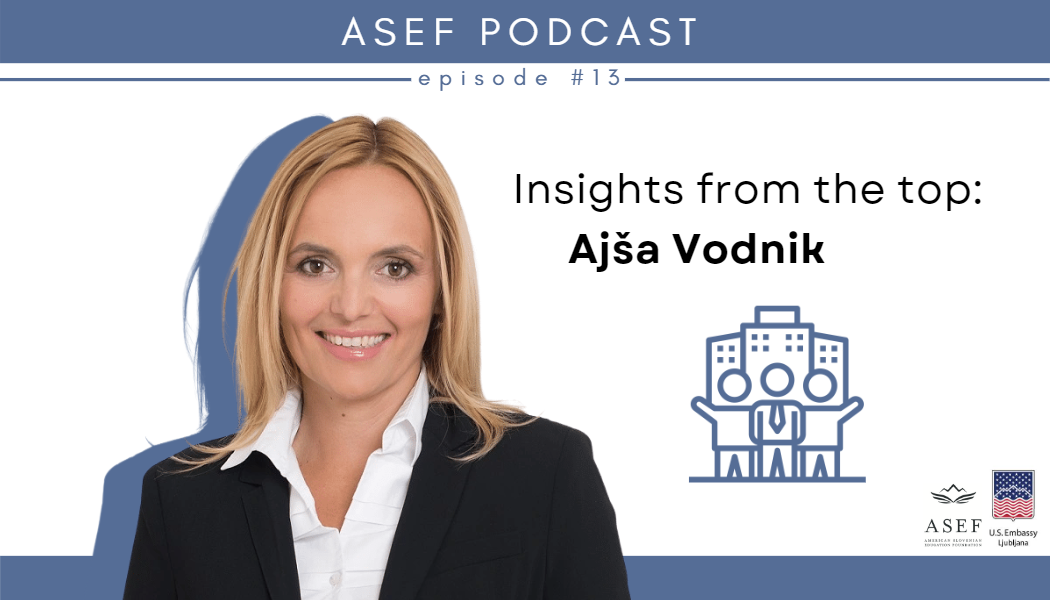 Get to know the ASEF Podcast guests [Episode 13]
The new episode of the ASEF Podcast hosts Ajša Vodnik. On the podcast she discussed her early career, her current role as CEO of AmCham Slovenia and Vice President of AmChams in Europe, lessons learned, and her vision for  Slovenia.
Ajša Vodnik worked in media for 14 years, first as a journalist, then as editor-at-large and TV host. She holds a master degree in communication, and from 2007 has worked as consultant for strategic communication, consultant for business communication and communication coach for managers of the biggest Slovene companies.
She is currently the CEO of the American Chamber of Commerce in Slovenia – AmCham Slovenia. She has been elected Vice-Chair of AmChams in Europe – the European network of 45 AmChams from 43 countries. For 2 years mandate 2019/20 AmCham Slovenia runs the Secretariat for the organization. She is a co-author of the AmCham Young Professionals ProgramTM, which aims to transfer the best experience from business leaders and professionals to future generations. She is also one of the co-authors of the initiative Partnership for Change- an innovative platform for public private sectors cooperation. Additionally, she is an active mentor to entrepreneurs and sits on the strategic council of the ABC Accelerator in Slovenia.
Episode 13 is available to stream via this link.
This project is supported by the U.S. Embassy in Ljubljana.