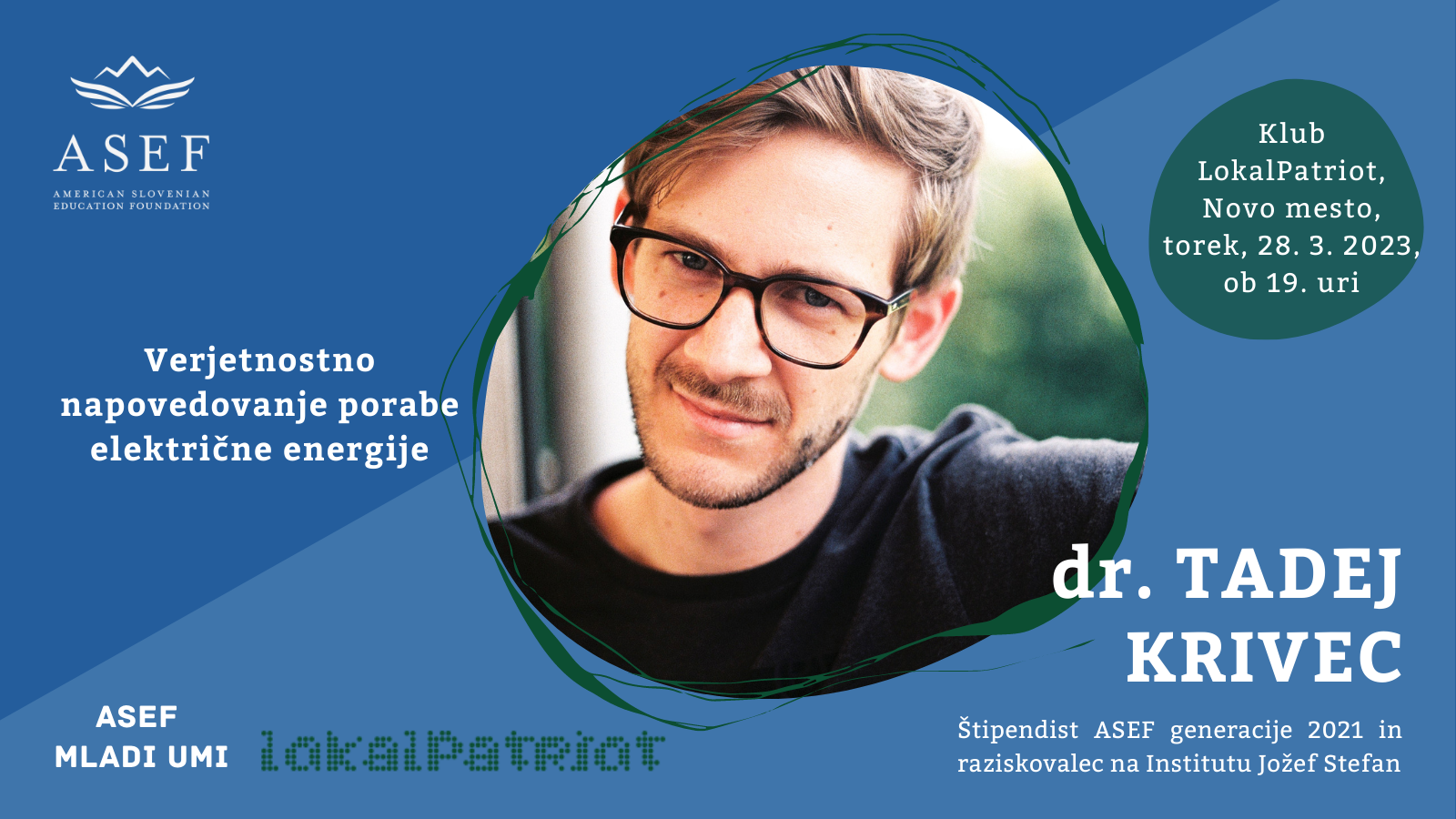 Dr. Tadej Krivec: Probabilistic Forecasting of Electricity Consumption
March 28, 2023 | 7:00 pm | Cafe of the LokalPatriot Club in Novo mesto (Rozmanova ulica 21, 8000 Novo mesto)
The American-Slovenian Educational Foundation (ASEF) is organizing a popular science lecture in collaboration with the LokalPatriot Institute from Novo mesto. The lecture will be given by dr. Tadej Krivec, ASEF Junior Fellow 2021 and researcher at the Jožef Stefan Institute, where he also completed his postgraduate studies. The lecture is entitled "Probability Forecasting of Electricity Consumption" and will take place in the cafe of the LokalPatriot Club in Novo mesto (Rozmanova ulica 21, 8000 Novo mesto).
REGISTRATION
To attend the lecture, you must register by March 28 at 6 p.m. at the latest.
ABOUT THE LECTURE
The optimal power flow is an optimization problem whose goal is to find the operating point of the power system. The problem aims to achieve low production costs while meeting the operational constraints of the grid. Important input data to the optimization problem are, among others, the forecast of electricity consumption and the forecast of produced photovoltaic electricity. At the event, the lecturer will present the problem of forecasting electricity consumption and production of photovoltaic energy in the Sydney area. Since consumption is becoming complex, and there is more and more production from renewable energy sources, a solution will be presented that describes the uncertainty in behavior patterns and the unpredictability of produced photovoltaic electricity using a probabilistic approach.
ABOUT THE LECTURER
Dr. Tadej Krivec graduated in electrical engineering from the Faculty of Electrical Engineering, University of Ljubljana. He has a master's degree in Informatics and automation at the same faculty. Since 2018, he has been employed as a (young) researcher at the Jožef Stefan Institute, where he also completed his postgraduate studies in the Information and Communication Technologies program. His research area includes probabilistic modeling of dynamic systems. He has been an ASEF Junior Fellow since 2020, and in 2022 he completed a research visit with the ASEF mentor prof. dr. Gregor Verbič at the University of Sydney.
ASEF YOUNG MINDS
ASEF Young Minds is a series of popular science lectures, which encourages young people to present their research work and experience gained within the framework of the ASEF fellowship program in a way that is accessible and understandable to the general public. In the project, ASEF connects with local organizations that operate in the places where the lecturers come from. The aim of cooperation is to connect and integrate young learners into the local Slovenian environment.
ASEF connects and unites Slovenian scientists and academics all over the world.
LokalPatriot is the central youth and independent cultural producer in the Dolenjska region.
The project is supported by the Office of the Republic of Slovenia for Youth and the Office of the Government of the Republic of Slovenia for Slovenes Abroad and the World.