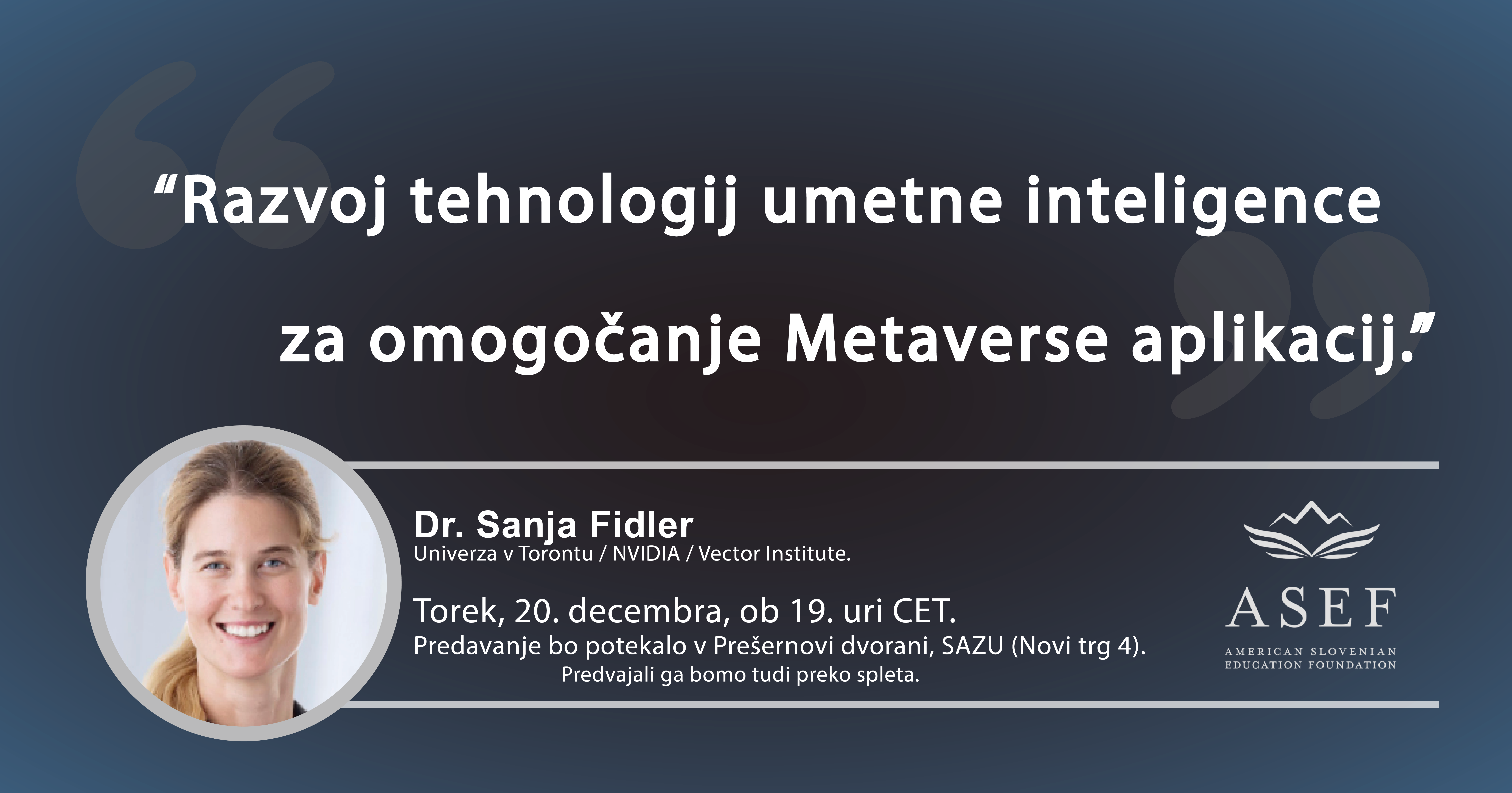 Dr. Sanja Fidler: Towards AI Technology for Enabling the Metaverse
December 20, 2022 | 7:00 pm | Prešern Hall at SAZU (Novi trg 4, 1000 Ljubljana) and via Zoom
The American Slovenian Education Foundation (ASEF) is organizing a new popular science lecture entitled Towards AI Technology for Enabling the Metaverse as part of the ASEF Speaker Series. The lecture will be held by dr. Sanja Fidler.
The lecture will take place on Tuesday, December 20, starting at 7 p.m. in a hybrid version, in the Prešern Hall at SAZU (Novi trg 4, 1000 Ljubljana) and via Zoom. Pre-registration for the lecture must be done by December 20 at 6 p.m. at the latest. When registering for the event, the type of participation is selected (at the location or via Zoom). All registered participants via Zoom will receive a Zoom link to their email address before the event.
ABOUT THE LECTURE
3D content is crucial in several fields such as architecture, film, computer games, robotics, and is at the heart of Metaverse applications. However, creating 3D content can be very time-consuming—artists must design high-quality 3D objects, assemble and integrate them into large worlds, and bring those worlds to life by writing behavioral models that "move" characters around the world. For applications like Metaverse, which have extremely large 3D virtual worlds, artificial intelligence that can help automate, scale, and democratize 3D content creation is critical. The lecture will present some current efforts in the field of artificial intelligence to create virtual worlds.
ABOUT THE LECTURER
Dr. Sanja Fidler is an associate professor at the University of Toronto, a member and co-founder of the Vector Institute, and Vice President of Artificial Intelligence Research at NVIDIA, where she leads the research lab in Toronto. Before coming to Toronto in 2014, she was a research assistant professor at the prestigious Toyota Institute of Technology Chicago, an academic institute on the campus of the University of Chicago. Her work covers the field of computer vision and machine learning, especially the intersection of computer vision and graphics, 3D vision, 3D reconstruction and synthesis, and interactive methods for image annotation.
ASEF connects scientists and academics all over the world.
The ASEF Speaker Series project is made possible with the financial support of the Government Office for Slovenians Abroad and the Office of the Republic of Slovenia for Youth.