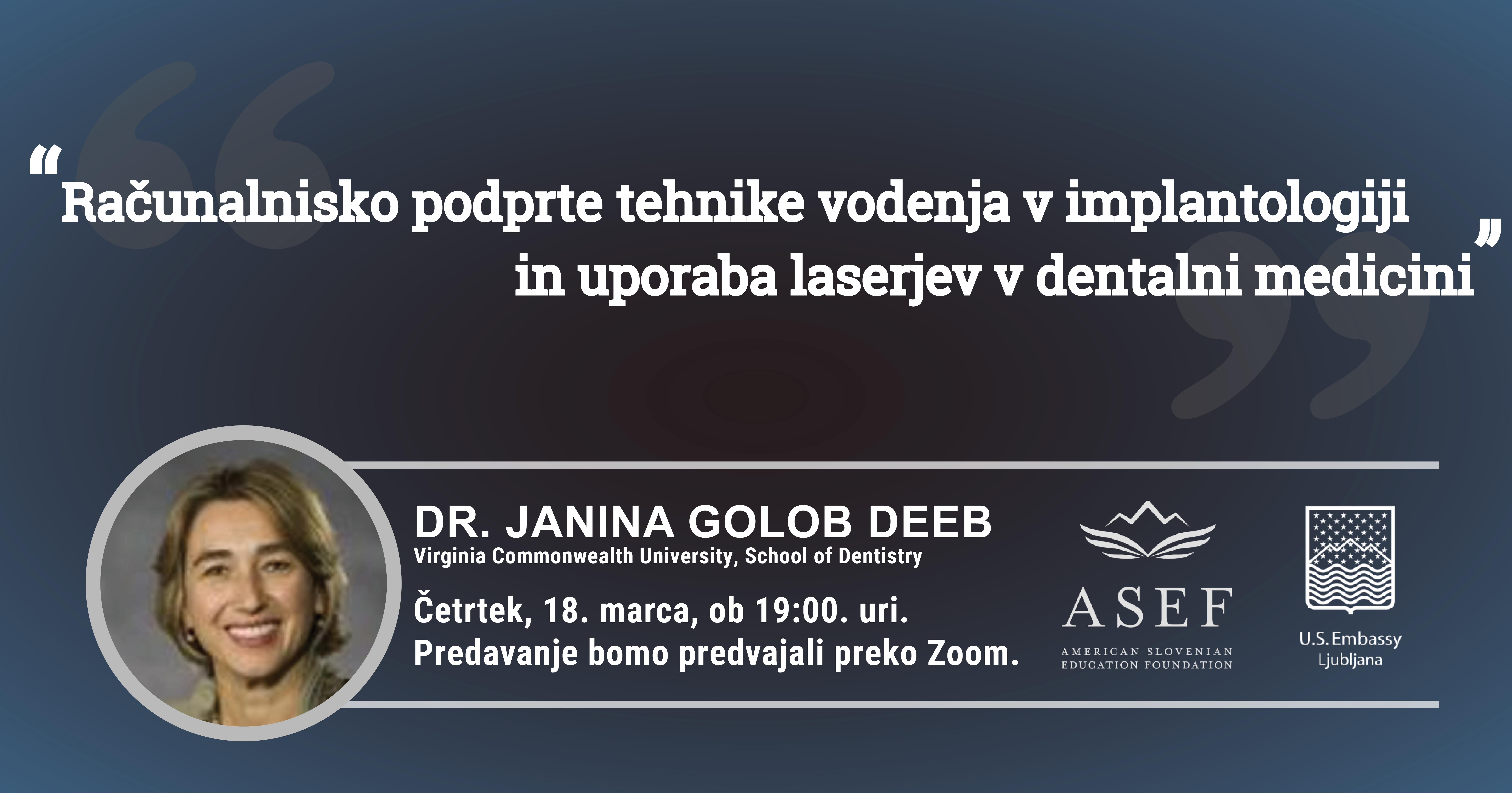 Janina Golob Deeb: Computer-Aided Management Techniques in Implantology and the Use of Lasers in Dental Medicine
March 18, 2021 | 7:00 pm | Online
Only two days separate us from the new lecture ASEF Speaker Series, organized by the American-Slovenian Educational Foundation (ASEF). This time, dr. Janina Golob Deeb presented a lecture entitled "Computer-aided management techniques in implantology and the use of lasers in dentistry".
Please register for the lecture by March 18 by 6 p.m. We will send a Zoom link to the email address to all registered before the event.
ABOUT THE LECTURER
Dr. Janina Golob Deeb is an Associate Professor in the Department of Periodontology at the Virginia Commonwealth University (Richmond, Virginia, USA). She completed her studies in dental medicine at the University of Ljubljana in 1996 and her internship and professional exam in 1997. In 2000 she completed a specialization in periodontology at the University of Oregon Health and Science (Portland, Oregon, USA) and in 2001 she obtained a master's degree in oral molecular biology. She worked in clinical practice for thirteen years as a periodontist and in 2013 pursued an academic career at Virginia Commonwealth University. As part of his research work, he deals with implantology, bone transplants, education in the field of dentistry and the use of laser light in dental medicine.
LECTURE TOPIC
The lecture will cover two research topics in which ASEF Fellows participated during a research visit to the University of Virginia Commonwealth.
In the field of implantology, the lecturer focuses on the analysis of different management methods for the placement of dental implants. Computer-assisted techniques for static and dynamic navigation allow for more accurate implant placement and greater efficiency. Dynamic navigation can be used as a learning tool to train inexperienced dental implant operators – in both simple and more complex types of treatment (with one or more dental implants).
In the field of laser treatment, however, it focuses on the removal of ceramic veneers from teeth and dental implants as an alternative to the traditional method of removal by separating with drills. Previous research has focused on the analysis of two erbium lasers, setting optimal laser parameters for removing ceramic veneers from different materials, and analyzing the relationship between tooth surface, cement thickness and time required to remove dental veneer.