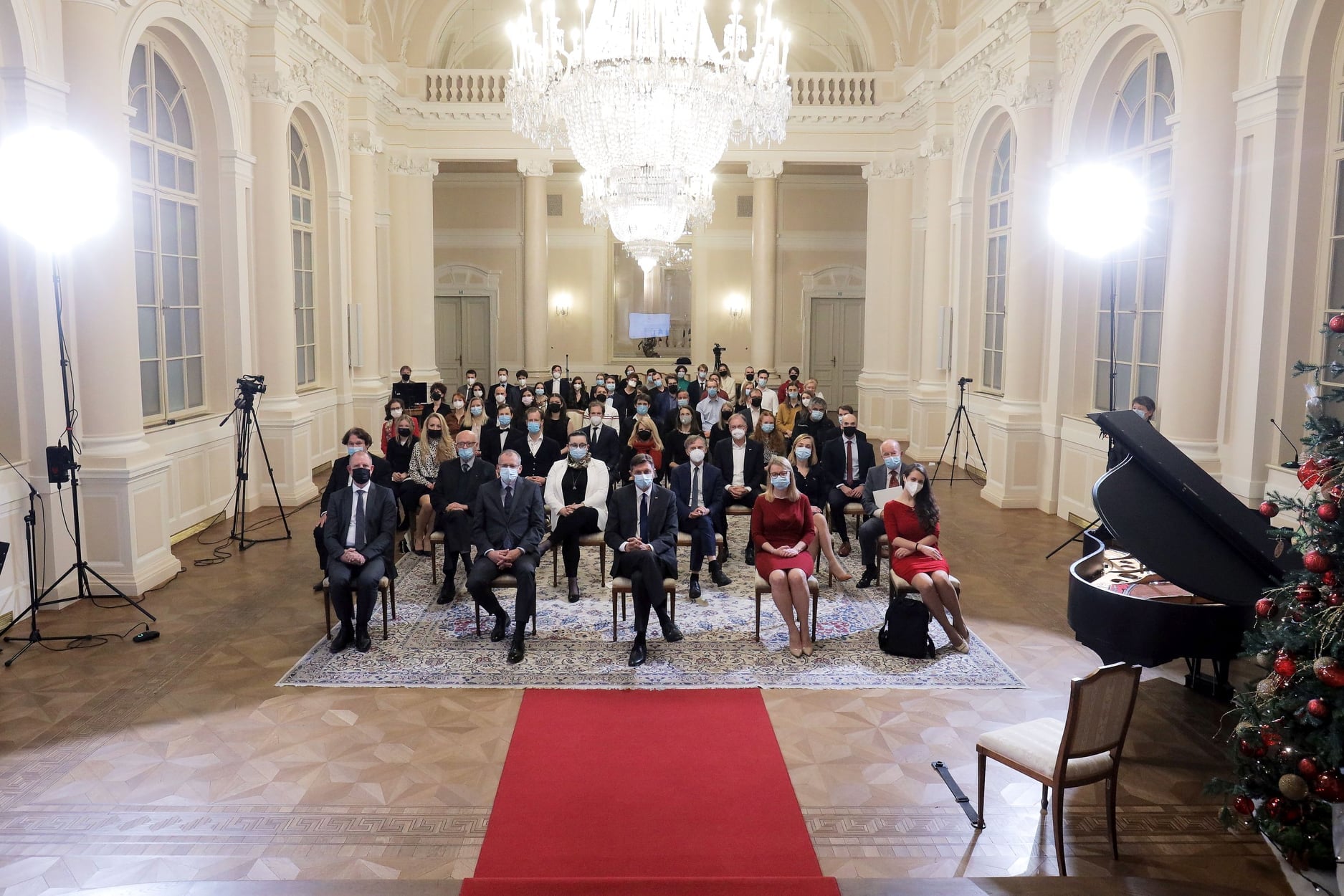 At the Traditional Reception in the Presidential Palace, the VTIS of The Year 2021 Was Awarded To Dr. Kaji Antlej and the First Publicly Presented Award of dr. Uroš Seljak
December 26, 2021 | 5:00 pm | President Palace in Ljubljana
On Sunday, 26 December 2021, members of the ASEF team attended a traditional reception hosted by the President of the Republic of Slovenia, Borut Pahor, for Slovenes working abroad. At the reception at the Presidential Palace, the VTIS of the Year award was presented and the "Dr. Uroš Seljak Award", presented by ASEF together with the University of Ljubljana, was presented to the public for the first time.
The VTIS Award of the Year, awarded by the VTIS Association, was received by dr. Kaja Antlej, President of the Slovenian Australian Academic Association, a member of VTIS and a ASEF Professor, due to the connecting and dedicated work she performs very engaged and professionally with an exceptional sense of promoting Slovenian knowledge, culture and art. We sincerely congratulate her on receiving the award!
Dr. Uroš Seljak, professor of astrophysics at the University of California, Berkeley and AASEF Pofessor, received the Gruber Award from the Gruber Foundation at Yale University together with two other laureates this year. It is one of the world's most prestigious scientific awards in the field of cosmology. Dr. Seljak received the award for his significant contribution to methods that are crucial for researching and understanding the origin of the universe.
He dedicated his part of the award to the establishment of the "Dr. Uroš Seljak Award", which is aimed at encouraging and supporting scientific publications of first and second grade students in Slovenia. This award will be announced by ASEF in the amount of 10,000 US dollars together with the University of Ljubljana.
A clip of this year's reception is available at the following link.