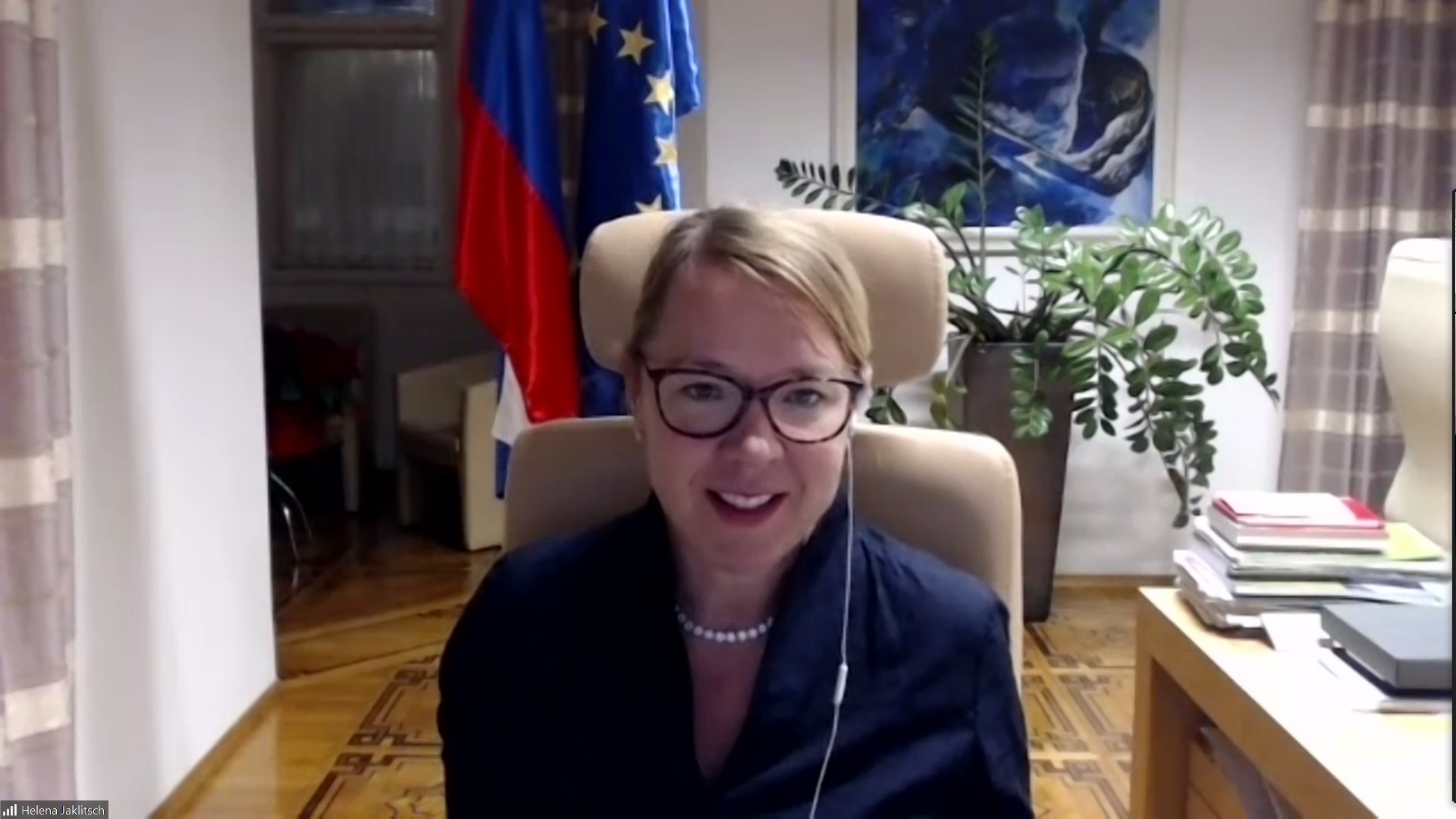 ASEF Story With Dr. Helena Jaklitsch, Minister for Slovenes Abroad
December 09, 2021 | 7:00 pm | Online
On Thursday, December 9, 2021, ASEF organized the ASEF Story event. It is a series of events that take place on a monthly basis and within which ASEF Fellows have the opportunity to talk to exceptional Slovenes who are successful in various fields. Through them we want to get to know their field of activity and vision. The December conversation took place with the Minister for Slovenes Abroad, dr. Heleno Jaklitsch.
At the beginning, the guest of the evening presented why she decided to study history, emphasizing that she was always interested in the Slovenian language. She explained to those present the difference between foreigners, expatriates and emigrants. Foreigners are Slovenes who live beyond the Slovene border, but are still part of the Slovene national space. The immigrants are Slovenes who, for some reason, left Slovenia temporarily, but did not stay abroad, but returned. Emigrants are Slovenes who have permanently emigrated abroad.
Dr. Jaklitsch took over the management of the Office of the Government of the Republic of Slovenia for Slovenes Abroad at the beginning of 2020, when the crisis situation related to the pandemic had already begun. She said that in the beginning, her biggest challenge was how to connect Slovenes around the world in these new times, express their closeness to them and thus reduce the distance to Slovenia. The Minister accepted these guidelines as her mission, which is expressed during her tenure by always taking the time to spend quality time with Slovenes and visit Slovene communities around the world in physical or virtual form. She acquainted the scholarship holders with the many challenges of connecting the diaspora and creating appropriate conditions for Slovenes to return to their homeland.
The Slovenian language is very valuable to the Minister. Slovene is the essence of our identity, so devoting care to the preservation of the use of Slovene in various fields as well as to the development of professional terminology is extremely important. There was also talk about the diversity of Slovene dialects, which is not something we should be ashamed of, but something that enriches the Slovene language space. She also encouraged the gathered ASEF scholarship holders who are active in various fields to be proactive and help in the development of Slovenian professional terminology.
Pleasant conversation with Minister dr. Helena Jaklitsch was moderated by Stefania Leber, an ASEF scholarship holder from Argentina, who moved to Slovenia this year.
Urad Vlade RS za Slovence v zamejstvu in po svetu