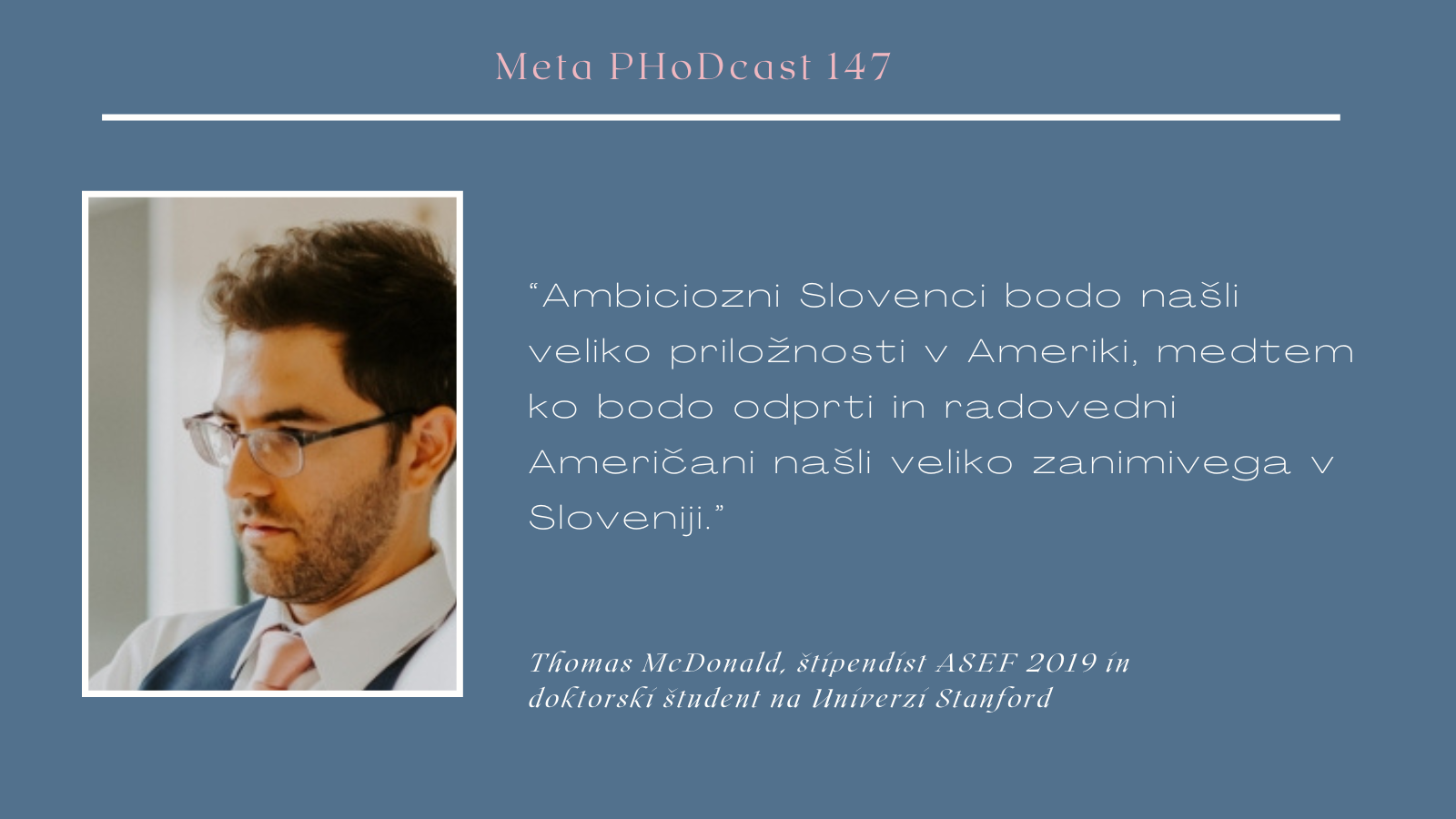 ASEF Fellow on Meta PHoDcast
𝗧𝗵𝗼𝗺𝗮𝘀 𝗠𝗰𝗗𝗼𝗻𝗮𝗹𝗱, ASEF Fellow from Stanford University is a guest on a new episode of Meta PHoDcast. In the episode of the podcast, Thomas provided some details about his research and talked about his journey of learning the Slovenian language at Stanford. Thomas is not only connected to Slovenia through his research but is also an assistant to Mija Rode, a Slovenian language teacher, and is actively contributing to the preservation of the Slovenian language course at the Slovenian Club in Silicon Valley.
Thomas also discussed the intersections of Slovenian and American culture, and as he pointed out "𝗮𝗺𝗯𝗶𝘁𝗶𝗼𝘂𝘀 𝗦𝗹𝗼𝘃𝗲𝗻𝗶𝗮𝗻𝘀 𝘄𝗶𝗹𝗹 𝗳𝗶𝗻𝗱 𝗺𝗮𝗻𝘆 𝗼𝗽𝗽𝗼𝗿𝘁𝘂𝗻𝗶𝘁𝗶𝗲𝘀 𝗶𝗻 𝗔𝗺𝗲𝗿𝗶𝗰𝗮, 𝘄𝗵𝗶𝗹𝗲 𝗼𝗽𝗲𝗻-𝗺𝗶𝗻𝗱𝗲𝗱 𝗮𝗻𝗱 𝗰𝘂𝗿𝗶𝗼𝘂𝘀 𝗔𝗺𝗲𝗿𝗶𝗰𝗮𝗻𝘀 𝘄𝗶𝗹𝗹 𝗳𝗶𝗻𝗱 𝗺𝗮𝗻𝘆 𝗶𝗻𝘁𝗲𝗿𝗲𝘀𝘁𝗶𝗻𝗴 𝘁𝗵𝗶𝗻𝗴𝘀 𝗶𝗻 𝗦𝗹𝗼𝘃𝗲𝗻𝗶𝗮". He also highlighted the dual form in the Slovenian language as a special sociolinguistic element, as a miracle that (still) shows the immediacy of reciprocity in society.
Thomas McDonald is a Ph.D. student in Comparative Literature, where he researches how works of literature and film have anticipated economic and social crises during the 20th century. In his research, he explores the work of Peter Handke and Lee Yangji, as well as the Austrian-Slovenian parallels of the former and the Japanese-Korean parallels of the latter.
Listen to the podcast (in Slovenian language) here: https://bit.ly/3ILs4Cl