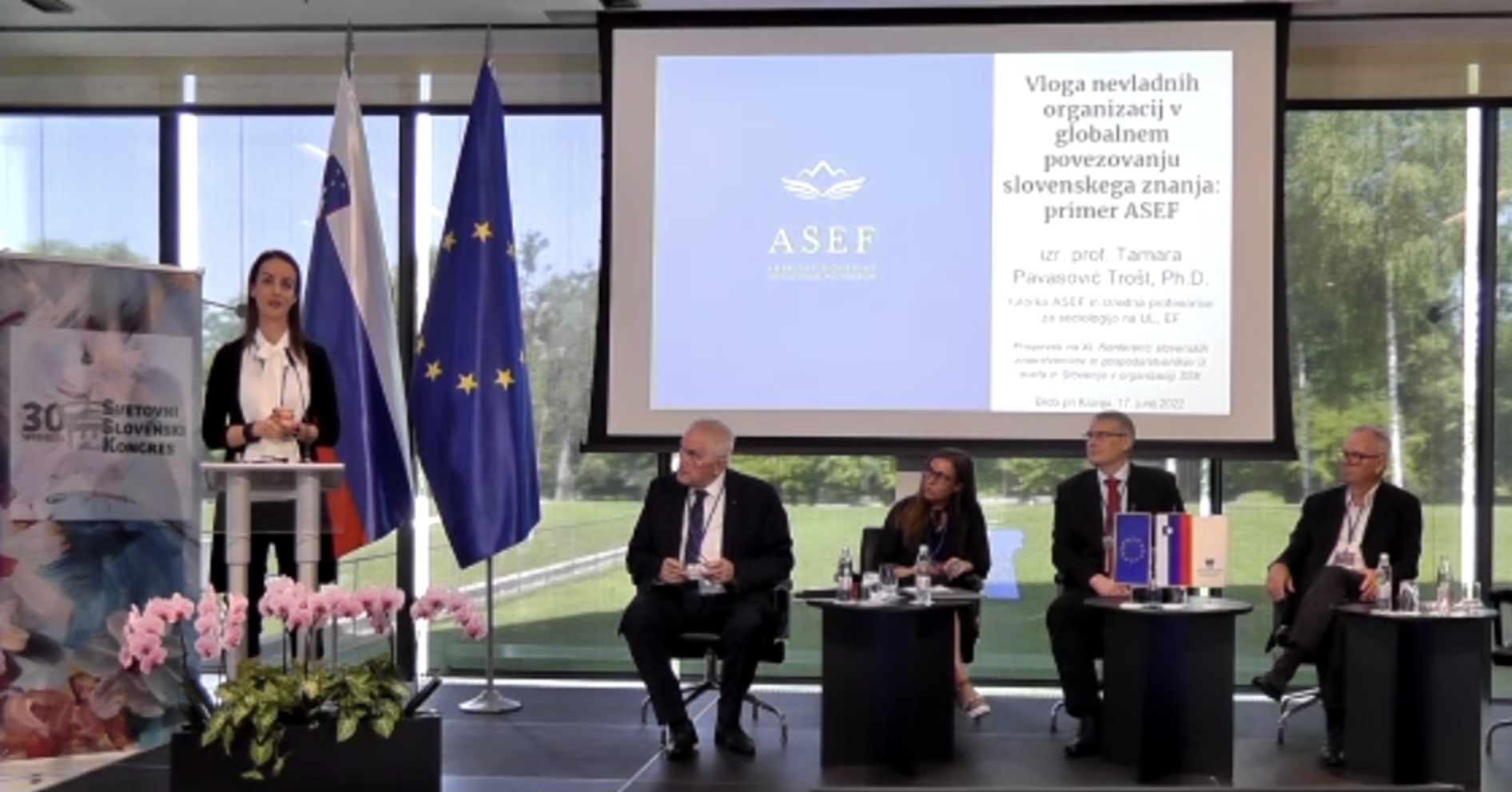 ASEF Connects Slovenian Scientists Around the World and Connects Them to Their Homeland
June 17, 2022 | 12:00 am | Brdo pri Kranju
On Friday, June 17, in Brdo near Kranj, as part of the XI. The conference of Slovenian scientists and businessmen from the world and Slovenia, organized by the World Slovenian Congress, ASEF coorganized discussion on the topic "Global integration of Slovenian knowledge". Assoc. prof. dr. Tamara Pavasović Trošt, on the example of ASEF, presented the role of non-governmental organizations in the global integration of Slovenian knowledge.
In the introductory part, prof. Pavasović Trošt, Associate Professor of Sociology at the University of Ljubljana, Faculty of Economics, presented the main tasks of non-governmental organizations in this field. Non-governmental organizations are a platform for getting to know each other, connecting, uniting and international cooperation, which is especially important today. They also offer opportunities to share knowledge in order to promote research opportunities. Last but not least, non-governmental organizations such as ASEF play an important role in establishing ties with Slovenia through maintaining contact and mutual exchanges. "ASEF is working to identify where Slovenian scientists are around the world, what they are doing and then connect them in different ways. The first step is therefore to identify where Slovenian scientists work. "
Then she introduced ASEF and its operation to the listeners. ASEF brings together and connects more than 90 Slovenian academics working at 50 different universities in the USA, Canada, the United Kingdom, the EU, Australia and New Zealand. She also presented the ASEF Fellowship programs, which instill in young researchers a sense of global integration and the circulation of Slovenian knowledge. Because prof. Pavasović Trošt cooperates with ASEF through the ASEF Tutoring Program, she described how it contributes to the circulation of Slovenian knowledge. "We continue to work with students, not only to send them abroad and bring them back, but to shape them into scientists." An example of a concrete platform for networking is the Slovenian-American Virtual Academic Symposium (SAVAS), where professors, university administrators and researchers are looking for opportunities for mutual cooperation and networking.
Another important activity that ASEF carries out together with the University of Ljubljana is the Dr. Uroš Seljak, who supports the best scientific publications of students of all Slovenian higher education institutions with a one-time amount of 10,000 USD. This award helps talented students at the beginning of their scientific path. In addition, cooperation with ASEF is an additional motivation for students, as a research visit abroad or participation in the ASEF tutoring program is a credit-valued extracurricular activity at the University of Ljubljana, which ASEF seeks to expand to other Slovenian higher education institutions.
The discussion was also attended by prof. dr. Boštjan Markoli, Vice-Rector for Internationalization and Quality UL, prof. dr. Danilo Zavrtanik, longtime rector of the University of Nova Gorica, prof. dr. Jadran Lenarčič, long-time director of the Jožef Stefan Institute and prof. dr. Klavdija Kutnar, Rector of the University of Primorska. All speakers agreed that international integration of knowledge is one of key importance for Slovenian scientists to share their experiences and at the same time transfer knowledge from abroad to Slovenia. The discussion was moderated by prof. dr. Ludvik Toplak, President of Alma Mater Europaea.