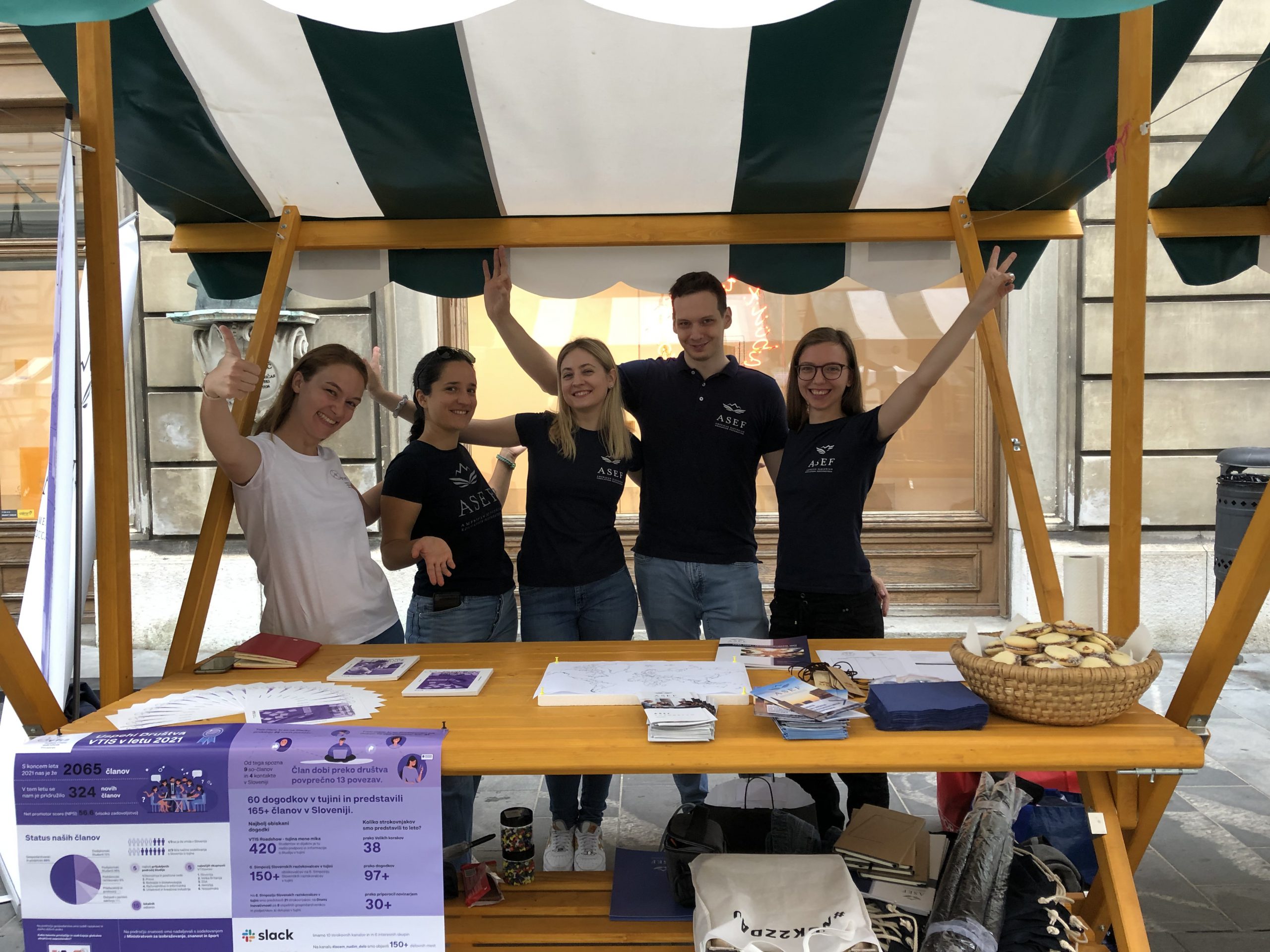 ASEF and VTIS have participated at the Festival LUPA 2022
Yesterday, on Thursday, September 8, ASEF participated at the 20th Festival of Non-Governmental organizations LUPA 2022, which was organized for the 20th year by the umbrella network of Slovenian NGOs – CNVOS.
At 10 o'clock in the morning in the center of Ljubljana on Prešeren Square, the Triple Bridge and Stritar Street, stands came to life, where associations and organizations from the non-governmental sector presented their activities to passing visitors. We also had quite a colorful day at the stand #53 on Stritar Street. The ASEF team, which consisted of Maruša Sirk, Hana Gradišnik, Ana Porcelo Žakelj, David Nabergoj and Gabriel Nemanič, tried to present to you in more detail the idea of ​​uniting and connecting Slovenians at home and around the world and also the tools to achieve it, such as the ASEF scholarship program, which enables young people to visit a foreign university under a mentorship of a professor of Slovenian origin or to visit Slovenia.
Visitors, including foreigners, were able to mark their home country, place of their studies or perhaps the place of their last trip on the blank map. Many people trusted us with their experiences from abroad or showed interest and enthusiasm for the purpose of our operation. The real glory belonged to our Argentine cookies with "dulce de leche" filling, prepared for the visitors by our scholarship holders from Argentina: Ana Porcelo Žakelj, Nataša Urbančič, Caro Casquil, Mayka Jacob and Gabriel Nemanič.
It was an honor for us to share the stand with Nika Rožanc from the VTIS Association. We stood there together as a coordinated team working towards a common goal.
After a successful morning, we had to end our gathering early due to a thunderstorm that turned the streets of Ljubljana into streams, but we are still proud of the fact that we managed to bring the activities of our organizations closer to some of you.