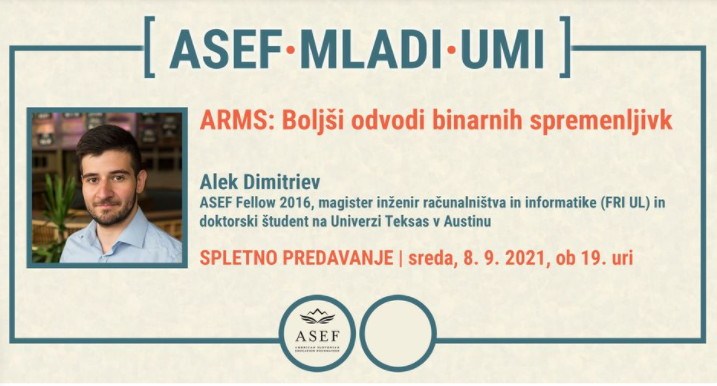 Alek Dimitriev: Better Derivatives of Binary Variables
September 08, 2021 | 7:00 pm | Online
ASEF is organizing an online popular science lecture to be delivered on Wednesday, September 8, at 7 pm by Alek Dimitriev, ASEF Fellow 2016, Master of Science in Computer Science and Informatics (FRI UL) and PhD student at the University of Texas at Austin.
REGISTRATION
To view the lecture, you must register by September 8 at the latest by 6 pm here. The zoom link for access and the code for asking questions will be sent to all registered users by e-mail on the day of the event.
ABOUT THE LECTURE
Modern machine learning often relies on the use of different models of deep neural networks. In practical applications, it is important that such models are capable of estimating the derivatives of discrete variables, which can be a difficult task. Also, the success of a model is often influenced by its architecture, the search for which can be time consuming. In the presentation, we will focus on working with binary variables, often useful in variational autocoders. We will show the latest results in this field on a variety of data sets.
ABOUT THE LECTURER
Alek Dimitriev is an ASEF Fellow 2016 and a doctoral student involved in machine learning. He began his studies at FRI UL, where he received his bachelor's and master's degrees. He is currently in doctoral studies at the University of Texas at Austin at McCombs School of Business. In 2016, before starting his doctoral studies, he was part of an ASEF scholarship program at Stanford University with prof. Jure Leskovac, where he researched the use of UFOs to create networks from scientific summaries.