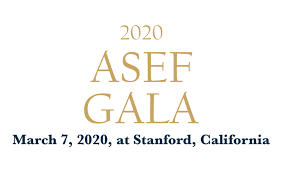 2020 ASEF Gala in the US
The American-Slovenian Education Foundation (ASEF) cordially invites you to the 2020 ASEF Gala which will take place on Saturday, March 7, 2020, at Stanford University in California.
The ASEF Gala is a great occasion to celebrate our organization's progress and to recognize the Slovenians of exceptional accomplishments. We look forward to making the 2020 Gala our biggest yet!
We will be honored to introduce the 2020 ASEF Lifetime Achievement Award winner, Sunita Williams, a Slovene American astronaut. Ms. Williams formerly held the records for total spacewalks by a woman (7) and most spacewalk time for a woman (50 hours, 40 minutes).
We are also extremely delighted that this year's Gala Dinner will be prepared by Tomaž Kavčič and his team, who will come to California from Vipava, Slovenia. Chef Kavčič is the best Slovenian chef and a culinary star who has added Slovenia to the culinary map of the world.