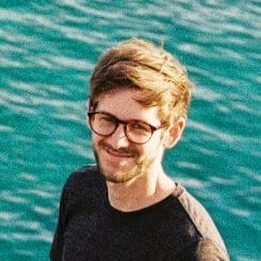 Tadej Krivec is pursuing a Ph.D. at Jožef Stefan Institute, Department of Systems and Control. He graduated from college with a Bachelor's and Master's Degree in Electrical Engineering, University of Ljubljana. He aims to bridge the gap between engineering and recent developments in probabilistic machine learning, mostly using Gaussian Processes for learning dynamical systems. Frustrated by the uncertainty in the world, he prefers a probabilistic approach to model from data. He will be visiting professor Gregor Verbič at the Centre for Future Energy Networks, University of Sydney, where he will try to contribute to solving the sustainable energy supply puzzle which holds the key to the prosperity of humankind.
Tadej's free time is consumed with sports, from his favorite cycling to running, swimming, hiking, skiing, and lately also free climbing. Only the list of his injuries is longer than the list of sports he participates in.
SLOVENIAN
Tadej Krivec je mladi raziskovalec na Inštitutu Jožef Stefan, Oddelek za sisteme in vodenje. Diplomiral in magistriral je na Fakulteti za elektrotehniko, Univerza v Ljubljani. Njegov cilj je premostiti vrzel med inženiringom in aktualnim razvojem verjetnostnega strojnega učenja, večinoma z uporabo gaussovskih procesov za modeliranje dinamičnih sistemov. Zaradi pristotnosti negotovosti v svetu preferira verjetnostni pristop za modeliranje iz podatkov. Obiskal bo profesorja Gregorja Verbiča v Centru za prihodnost energetskih omrežij na Univerzi v Sydneyju, kjer bo poskušal prispevati k reševanju uganke o trajnostni oskrbi z energijo, ki bo ključna za blaginjo človeštva v prihodnosti.
Tadejev prosti čas je zapolnjen s športom, od njemu najljubšega kolesarjenja do teka, plavanja, pohodništva, smučanja, v zadnjem času pa tudi plezanja. Le seznam njegovih poškodb je daljši od seznama športov s katerimi se ukvarja.