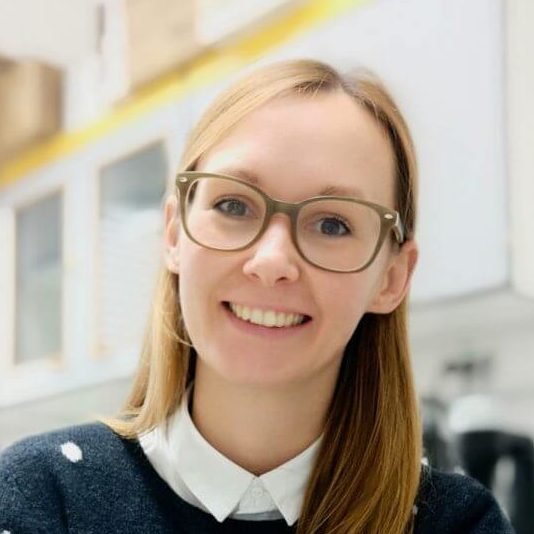 Špela is a second-year PhD student of Biosciences, University of Ljubljana. During her master's study of Biotechnology at the University of Ljubljana, she worked as a student intern in Novartis company- Lek, d.d., in a Bioprocess laboratory, developing high yielding bioprocesses. She finished her master's degree as a part of Erasmus+ exchange at the University of Natural resources and Life sciences, Vienna, working on a metabolic model of CHO cells. After that, she spent a semester in Max-Delbrück centre for molecular medicine, Berlin, where she enthusiastically joined a project that aims to develop an autonomous cell-engineering approach for B cells.
Now, Špela focuses on innate immunity, especially on Toll-like receptor 10. She feels honoured to be accepted to prof. dr. Boštjan Kobe at the University of Queensland in Brisbane, where she will be working on crystal domains of TLR10. She's a big enthusiast of nature and outdoor sport, and spends her spare time alpine climbing, hiking the mountains or backcountry skiing.
SLOVENIAN
Špela je študentka drugega letnika doktorskega študija Bioznanosti, Univerza v Ljubljani. Med magistrskim študijem Biotehnologije, Univerza v Ljubljani je kot študentka delala v podjetju Novartis -Lek, d.d., v bioprocesnem laboratoriju in razvijala visoko donosne procese. Magistrirala je v okviru izmenjave Erasmus+ na Univerzi za naravne vire in znanosti o življenju na Dunaju, kjer razvijala metabolični model celic CHO. Po tem je preživela semester v centru za molekularno medicino Max-Delbrück v Berlinu, kjer se je navdušeno pridružila projektu, katerega cilj je razviti avtonomni celični inženiring za celice B.
Zdaj se Špela osredotoča na prirojeno imunost, zlasti na cestninsko podoben receptor 10. Počaščena je, da je bila sprejeta v laboratorij prof. dr. Boštjan Kobe na Univerzi Queensland v Brisbane, kjer bo delala na kristalnih domenah TLR10. Je velika navdušenka nad naravo in športom na prostem, v prostem času se ukvarja z alpinizmom, pohodništvom in turnim smučanjem.