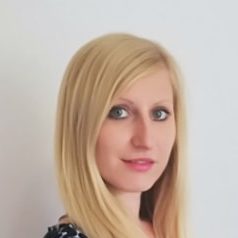 Sabina Veršič is a PhD student of Economic and Business Sciences at the Faculty of Economics and Business, University of Maribor, working in the field of Strategic Management and Company Policy. Her primary research interest is Strategic Management, in particular the impact of perceived changes in the multidimensional ecosystem of the company's (external) environment on the company's business focus and performance. She received her MSc in Project and Strategic Management and BSc degree in Management from the Faculty of Economics and Business, University of Maribor.
This summer, Sabina will be visiting Dr. Tina Saksida at the University of Prince Edward Island and Dr. Nuša Fain at the Queen's University, where she will measuring the impact of digitalization on business strategy, employee perceptions and skills. Aside from research, she likes traveling and exploring new cultures as well as spending time with her dog, friends and family.
SLOVENIAN
Sabina Veršič je doktorska študentka ekonomskih in poslovnih ved na Ekonomsko-poslovni fakulteti, Univerze v Mariboru, raziskuje področje strateškega managementa in politike podjetja. Njeno glavno raziskovalno področje je področje strateškega managementa, natančneje raziskuje vpliv zaznanih sprememb večdimenzionalnega ekosistema (zunanjega) okolja podjetja na strateško poslovno osredotočenost in uspešnost podjetja. Magistrirala je iz področja projektnega in strateškega managementa in diplomirala iz področja management na Ekonomsko-poslovni fakulteti Univerze v Mariboru.
To poletje bo Sabina obiskala dr. Tino Saksina na University of Prince Edward Island in dr. Nušo Fain na Queen's University, kjer bo merila vpliv digitalizacije na poslovne strategije, zaposlene in njihove spretnosti. Drugače pa Sabina rada potuje in raziskuje nove kulture kakor tudi preživlja čas s psom, prijatelji in družino.