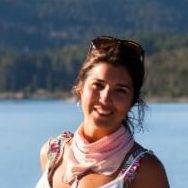 Nadia Magister was born in Bariloche, a beautiful Argentinian town at the bottom of the Andes Cordillera, surrounded by mountains, the Nahuel Huapi Lake, and nature all around. Her four grandparents were born in Slovenia, and because of WW2, they had to leave their homes. They arrived in the big city of Buenos Aires, but it was said that in Patagonia there is a place similar to Slovenia. And so, the ones who were alpinists and mountain lovers moved there. They were searching for a little piece of their so missed home, in a new country. And there they found it, in Bariloche, where they built their new home, passing on the huge love for their country, the culture, traditions, language to their children and grandchildren.
Each person has a passion. And it is said that once we find it, we cannot silence it. Nadia's passion is music, singing. Even though she has a degree in Fashion Design in the Buenos Aires University, and works with the design too; she followed her passion and studied solo singing at "Conservatorio Superior de Música Manuel de Falla" in Buenos Aires, and two years ago she started the Ancient Music Graduate Course at the same institution. She comes from a family where music surrounded her since she was born, with a mum who is a musician, and a dad who is always in contact with music; they transmitted to her five brothers and her the love for music. This is part of who she is, and where does the motivation of going to Slovenia to go on with her singing career, comes from.
She is extremely grateful for the ASEF Fellowship opportunity, where she is going to be mentored by soprano Theresa Plut. Nadia knows that having the possibility of working and sharing with musicians from another country will challenge her to a new level, where she will grow from a professional perspective and a personal one as well.