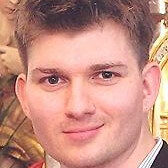 Domen Ribnikar is a medical doctor, a specialist of medical oncology, currently working at the Institute of Oncology Ljubljana. He deals with breast cancer patients and is responsible for the systemic treatment of these patients. He is also a PhD student of Biomedicine at the Medical Faculty of Ljubljana. Already as a medical student, he was actively involved into research in the breast cancer field and he continued with research also during his residency.
In 2016 Domen left Slovenia and went to Toronto, Canada, for a 2-year breast cancer clinical-research fellowship under the mentorship of professor doctor Eitan Amir. So far, they have published many good papers in different medical journals and some of them are still in a writing phase.
ASEF will give him an excellent opportunity to be even more actively involved into breast cancer research as he will be conducting a research of tumor heterogeneity in patients with invasive lobular breast carcinoma, which is also a theme for Domen's doctoral thesis. Domen has been constantly actively involved into breast cancer research as he regularly attends national and international meetings, also as an active speaker.
His family (his wife Nina and two daughters Julija and Lana Mae) gives him enthusiasm and strength for further clinical and research work in medical oncology. In his free time Domen likes jogging, hiking and he also practices transcendental meditation.